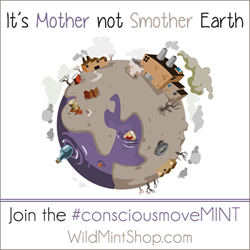 Plantation, FL (PRWEB) April 16, 2014
Five health-conscious and eco-friendly companies passionate about helping the Earth are raising awareness about taking greener initiatives through their #consciousmoveMINT and a joint giveaway for Earth Day. The companies, Wild Mint, purely elizabeth, Brad's Raw Foods, Glass Dharma, and Synergy Organic Clothing, are encouraging people to join them by sharing steps to a greener lifestyle on social media along with the hashtag "#consciousmoveMINT". In addition, they are giving away a gift pack valued at over $100, filled with healthy, earth-friendly goodies. The group hopes their efforts will have a ripple effect and inspire more people to take positive action for a healthy planet.
Earth Day is celebrated every year on April 22, by over a billion people in countries around the world. The day was created in 1970 to bring awareness to environmental issues and greater appreciation for the planet. Every year has a theme and this year it is "Green Cities," focusing on the unique environmental challenges of the time and the need to create sustainable communities.
The #consciousmoveMINT focuses on earth-friendly practices and healthy choices. Some examples of the daily #consciousmoveMINT tips include:

Replacing harmful chemical cleaners with all natural kinds.
Decorating nails with biodegradable, toxin free, cruelty free, all natural nail polish.
Buying local produce to help reduce the environmental impact of transportation.
Like others who want to help spread the word about Earth Day, the green companies doing the Earth Month Giveaway will be promoting earth awareness for the entire month of April. They hope the giveaway will inspire people to "go green" in ways such as using reusable water bottles instead of plastic, bringing a healthy lunch to work instead of ordering takeout, and wearing organic cotton clothing. The giveaway items include:

A Wild Mint "Love and Peas" Organic Cotton Shopping Tote
a 4-pack of Ancient Grains Oatmeal from purely Elizabeth
a $25 gift card to use at Glass Dharma
1 container of Brad's Raw Crunchy Naked Kale Chips, 1 container of Brad's Raw Crunchy Vampire Killer Kale Chips, and 1 bag of Sweet Potato Chips
a $25 gift card to Synergy Organic Clothing
In addition, Wild Mint is offering 10% off all orders of eco-friendly, toxin-free products on their site through April 30th with code PLANET at check out.
About Wild Mint
Wild Mint is dedicated to helping people live eco friendly, healthy and non-toxic lifestyles. Started by a mother of 6 in her quest to find safer alternatives to toxin-laden products, the company shares invaluable knowledge and resources on their website, http://www.wildmintshop.com. On a mission to positively influence people's lives, Wild Mint is a one-stop source for trusted information and safer, more environmentally friendly products.