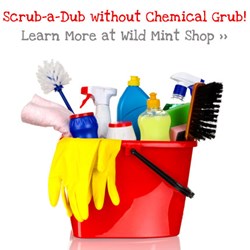 One has to dig deep to find the companies that truly offer safe and effective products, and aren't just falsely labeling them that way
Plantation, FL (PRWEB) August 13, 2013
Eco friendly, toxin free company, Wild Mint, which offers safer solutions to conventional chemical laden products on their website, WildMintShop.com, is introducing natural, safe and effective cleaning products for healthy homes and families. Before selecting its new green cleaning products, Wild Mint did extensive research in order to weed out the items that contain harmful chemicals and are toxic to people and the environment.
"The most important realization," said President of Wild Mint, Hannah Helsabeck, "is that some cleaning brands out there today are 'greenwashing' consumers with claims that they are toxin free and good for the Earth. One has to dig deep to find the companies that truly offer safe and effective products, and aren't just falsely labeling them that way."
Dangerous chemicals in cleaning products have been linked to serious health concerns, including cancer, respiratory illness, allergies and asthma, obesity, reproductive problems, and hormonal imbalances. Some people may suffer immediate health repercussions from inhaling, touching, or digesting these toxic chemicals, while others may develop problems years later, after exposure. Though there are many different harmful chemicals in cleaning products, some of the more well known ones include formaldehyde, phthalates, lead, 1,4 dioxane, chlorine, fragrances, triclosan, and benzene.
Since so many cleaning products available today are full of these chemicals with potentially damaging health effects, Wild Mint strives to be a trusted resource for families to find handpicked, effective, safe cleaning products. The company is now offering its selection of natural, green cleaning products in the following categories: household cleaners, laundry, dish soaps, air fresheners, and cleaning utensils.
The brands that Wild Mint trusts only use ingredients known to be safe, and that are derived primarily from natural sources such as plants, fruit and vegetable extracts, and pure essential oils. The brands must also provide complete transparency on their labels and make a conscious effort to be as eco friendly as possible, with biodegradable formulas, recyclable packaging, and recycled materials.
In addition to evaluating each brand, Wild Mint also tested each green cleaning product to ensure great performance and satisfaction. "When a product leaves a clean, fresh smell behind instead of a potent, toxic one, you know you are using something that is healthy for your family," said Helsabeck. "Plus, these non toxic products worked just as well, if not better, than chemical laden products I've used in the past that could have been negatively affecting my health."
About Wild Mint
Wild Mint is dedicated to helping people live eco friendly, healthy and non-toxic lifestyles. Started by a mother of 6 in her quest to find safe alternatives to toxin-laden products, the company shares invaluable knowledge and resources on their website, http://www.wildmintshop.com. On a mission to positively influence people's lives, Wild Mint is a one-stop source for trusted information and safer, more environmentally friendly products.