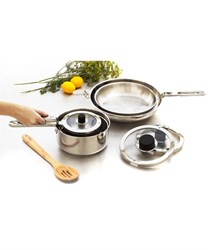 Eliminating toxins from people's lifestyles is something that can be done one step at a time and will make a significant and positive difference on their health.
Plantation, FL (PRWEB) January 14, 2014
Wild Mint, a toxin free, eco friendly company, is giving insight into healthy New Year's resolutions for families to kick start healthier habits in 2014. In addition, the company is offering $10 off all orders over $75 (with promo code NEWYEAR at check out) to help people find safer alternatives to conventional chemical laden products. The promotion starts on 1/13/14 and will expire on 1/31/14 (11:59pm PST). Wild Mint hopes to inspire people to consider greener and healthier options in the New Year.
"Eliminating toxins from people's lifestyles is something that can be done one step at a time and will make a significant and positive difference on their health," said Wild Mint President, Hannah Helsabeck. "The best part is that there are both large and small options families can take to start detoxifying, and they can choose the path that works best for them."
As a guideline for families, Wild Mint has outlined some attainable ideas for healthy New Year's resolutions:
1) Making lunch (in toxin free, eco friendly gear) instead of buying it– Not only does packing one's own lunch save money, calories, and the environment, but when making it in safer, toxin free lunchware it is also healthier. Some suggestions are to steer clear of plastics and opt for glass or stainless steel food storage containers, organic cotton napkins and bamboo utensils.
2) Drink more water (in a toxin free glass or stainless steel bottle) – While staying hydrated is a well known health necessity, drinking from water bottles containing toxins could lead to negative health issues. Plastic bottles (both disposable and reusable) can contain harmful chemicals that end up in people's bodies after drinking. Safer alternatives include stainless steel and glass which do not leach toxins.
3) Toxin Free Kitchen – Doing a kitchen makeover with healthier items is a great step for families looking to detoxify their entire home from harmful objects. For example, when some non stick pans reach a certain temperature they can release toxins into the air, and plastic utensils and containers may contain hormone-disrupting chemicals such as BPA. Instead, opt to discard all toxic kitchen items and replace them with glass, stainless steel, bamboo, and other food-safe options.
4) Natural Cleaners – Many conventional cleaning products contain harmful chemicals that could be polluting the indoor air in one's home. Make the switch to natural, toxin free products that are not only safer for families but also better for the environment.
For more options for healthier living and ideas for making a fresh new start in the New Year, visit WildMintShop.com/Learn.
About Wild Mint
Wild Mint is dedicated to helping people live eco friendly, healthy and non-toxic lifestyles. Started by a mother of 6 in her quest to find safer alternatives to toxin-laden products, the company shares invaluable knowledge and resources on their website, http://www.wildmintshop.com. On a mission to positively influence people's lives, Wild Mint is a one-stop source for trusted information and safer, more environmentally friendly products.