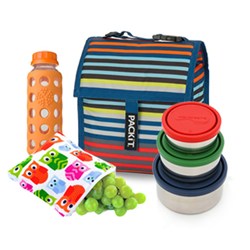 We want parents to be completely informed about their options because they deserve to know what might come into contact with their children's food. No one wants chemicals as a side dish in their lunches.
Plantation, FL (PRWEB) August 01, 2013
Wild Mint, a company dedicated to providing non-toxic, eco friendly and healthy solutions to families, is sharing insight for parents on how to pack a sustainable, non-toxic lunch for their children, this back to school season. Making an effort to invest in earth friendly, safer lunch gear is one way parents can help reduce their carbon footprint, save money, and improve the health of their families.
Disposable lunches generate an enormous amount of unwanted waste, contributing to landfills and polluting the air and oceans. According to the EPA, it's estimated that on average, a school-age child using a disposable lunch generates 67 pounds of waste per school year, which equates to almost 19,000 pounds of lunch waste for only one average-sized school. The EPA also states that packing a waste-free lunch can save an average student $250 a year.
Additionally, many lunch-packing materials have potentially harmful chemicals that could affect the health of children while contributing to pollution. Some well-known chemicals in items including lunch bags, plastic containers, utensils, plastic baggies, and water bottles are Bisphenol-A or BPA, phthalates, and lead. These chemicals can have a short term, immediate effect on people's health, or long term health effects that may not appear for many years. Though research is ongoing, some health concerns associated with these chemicals include diabetes, obesity, heart disease, worsening of allergy and asthma symptoms, impaired intellect, and some cancers.
"We want parents to be completely informed about their options," said President of Wild Mint, Hannah Helsabeck, "because they deserve to know what might come into contact with their children's food. No one wants chemicals as a side dish in their lunches."
In preparation for a safe and healthy back to school that is good for the environment and families, Wild Mint put together the following suggestions for a cleaner, healthier lunch:
1) Reusable Lunchbag: Look for a bag that is free of toxic chemicals including lead, PVCs, phthalates, and BPA. For an even more eco friendly choice, choose a lunchbag made from 100% organic cotton, which, compared to conventional cotton growing methods, has lower environmental impacts and doesn't use pesticides. In general, reusable bags are easy to carry and help reduce waste. Replace any brown bags, plastic grocery bags, and toxic reusable bags with safer options.
2) Healthy Food in Reusable Containers: Avoid disposable containers of any kind and replace them with reusable, non-toxic options. Glass, stainless steel, and organic cotton are all toxin-free alternatives to plastics that also promote healthier eating through conscious food preparation. Pack healthy sandwiches, meals, veggie sticks, yogurt, fruit, and more nutritious options in the safer storage. Replace plastic baggies with reusable sandwich and snack bags which will save money in the long run and help reduce waste.
3) Sustainable Utensils & Napkins: Reusable bamboo utensils are an eco friendly alternative to plastic and much lighter then packing silverware. With napkins, opt for reusable 100% organic cotton instead of costly paper napkins that add unnecessary waste to landfills.
4) Reusable Beverage Bottles: Plastic water bottles, juice boxes, soda cans, and other disposable drinks may be made with unhealthy ingredients, can contain toxic chemicals, and contribute to waste. Instead, use reusable glass or stainless steel bottles filled with water and other healthy beverages that will help reduce waste and exposure to toxins.
In addition to how to pack a sustainable lunch, Wild Mint has healthy snack ideas and eco-friendly packing tips at Healthy Snacks for Kids, for quick, easy, healthy, and affordable snacks that are good for people and the planet.
About Wild Mint
Wild Mint is dedicated to helping people live eco friendly, healthy and non-toxic lifestyles. Started by a mother of 6 in her quest to find safe alternatives to toxin-laden products, the company shares invaluable knowledge and resources on their website, http://www.wildmintshop.com. On a mission to positively influence people's lives, Wild Mint is a one-stop source for trusted information and safer, more environmentally friendly products.