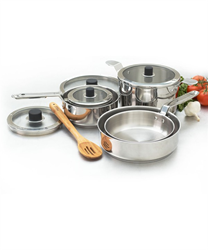 Plantation, FL (PRWEB) March 11, 2014
Wild Mint, a toxin-free, eco friendly company that gives families a "one-stop shop" to find safer, healthier products is giving away a Natural Home 10-piece stainless steel cookware set with a retail value of over $200. The giveaway is being held by blog, Empowered Sustenance, a go-to resource for healthy recipes and tips on living a chemical-free lifestyle.
The Natural Home Eazistore cookware set is an eco-friendly and safer alternative to certain types of non-stick cookware. The set is made from high-quality recycled 18/8 stainless steel, is manufactured without the use of harmful byproducts, and unlike some non-stick cookware, won't release the toxic chemical PFOA when heated.
The giveaway will run from March 5 through March 19, 2014 on the Empowered Sustenance blog; in conjunction with the contest, Wild Mint is also offering 15% off and free shipping on all size orders of non toxic, eco friendly products through March 31st with code EMPOWERED at check out.
About Wild Mint
Wild Mint is dedicated to helping people live eco friendly, healthy and non-toxic lifestyles. Started by a mother of 6 in her quest to find safer alternatives to toxin-laden products, the company shares invaluable knowledge and resources on their website, http://www.wildmintshop.com. On a mission to positively influence people's lives, Wild Mint is a one-stop source for trusted information and safer, more environmentally friendly products.