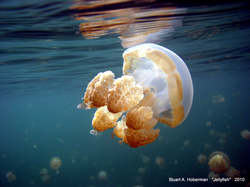 Woodbridge, NJ (PRWEB) September 16, 2014
Wilentz, Goldman & Spitzer is pleased to announce that Stuart A. Hoberman, shareholder with the law firm, has been selected as the Second Place Award Recipient in the New Jersey State Bar Foundation's Third Annual Juried Art Show for his photograph entitled "Jellyfish."
The photograph was taken in Jellyfish Lake on Eil Malk Island, Republic of Palau which is located in the Western Pacific. The lake is brackish and the jellyfish have lost their ability to sting over many thousands of years.
Founded in 1958 and based at the New Jersey Law Center in New Brunswick, New Jersey, the New Jersey State Bar Foundation is the charitable and educational foundation of the New Jersey State Bar Association. Joining the New Jersey State Bar Foundations Art Show as judges this year were Wendel White, Distinguished Professor of Art at Richard Stockton College and Joanna Madlock, Visiting Professor of Classics and Humanities at Montclair State University.
Mr. Hoberman, shareholder/director and chair of the Financial Services team at Wilentz, Goldman & Spitzer, P.A., has concentrated his practice in all areas of banking and finance for over 35 years. Areas of emphasis include asset based lending, secured lending, commercial and corporate finance, and real estate finance, participations and loan syndications. Additionally, Mr. Hoberman is a member of the New York, New Jersey, and Pennsylvania bars, is Past President of both the New Jersey State Bar Association and the New Jersey State Bar Foundation, and is currently a member of the Board of Trustees of the New Jersey Chamber of Commerce, and is Vice Chair of the Bank Lawyers Council of the New Jersey Bankers Association. Mr. Hoberman resides with his wife, Pam, in the Morganville section of Marlboro, NJ.
About Wilentz, Goldman & Spitzer P.A.
Founded in 1919 by David T. Wilentz, the New Jersey-based law firm is committed to its clients and the legal profession, and has been at the forefront of numerous landmark cases and precedent-setting decisions. Wilentz has a diverse practice, serving both individuals and businesses with their legal needs. The firm offers legal services throughout the New York Metropolitan area and Pennsylvania with offices in Woodbridge and Eatontown, New Jersey, New York City, and Philadelphia. For more information about Wilentz, Goldman & Spitzer, please visit http://www.wilentz.com.
Wilentz, Goldman & Spitzer is celebrating its 95th anniversary in 2014. It has been a privilege to serve clients for more than nine decades and the firm looks forward to continued success in the years ahead.