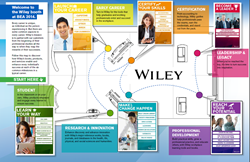 Visit Wiley's Booth (#1729) at BEA 2014
Hoboken, NJ (PRWEB) May 27, 2014
Every career is as unique as the individual pursuing it. However, there are some common traits to every career that help achieve professional success. It is Wiley's mission to partner with its customers from the beginning of their professional studies all the way to when they are able to reap the rewards of their successes.
At BEA 2014(May 29th- May 31th), Wiley encourages visitors to begin a journey through a typical career arc and discover how Wiley's books, products, and services enable and enhance every individual's success at each of the six common milestones in their career. Each stage will be represented by a station, where visitors can learn about the products and services available to them with a Wiley representative (a career tour guide) and interactive screens.
The various stations represent a typical career arc with stages including:

o Learn Your Way: In the classroom or on your own, Wiley products empower and engage every learner to ensure success.
o Launch Your Career: Turn to Wiley for the tools that help graduates and working professionals enter and succeed in the workplace.
o Certify Your Skills: From accounting to technology, Wiley guides help professionals pass the exams, earn the credentials, and stand out from the pack.
o Make Change Happen: Make Change Happen: Enhance discovery and advance innovation with Wiley's major reference works, books, journals, and databases in the health, life, physical, and social sciences and humanities.
o Reach Your Potential: Build practical skills, grow a professional practice, and educate others, with Wiley workplace learning tools and books.
o Become a Leader: When you've reached the top, it's time to turn success into inspiration.
Every visitor will be given a map and passport to guide them through six career milestones in the Wiley booth. As visitors explore and learn about each stage in this career journey, they can present their passport to a Wiley tour guide for a stamp. Visit three stations, and receive three "visa" stamps, and claim your choice of BookShout e-books. Visitors who collect all six stamps will be entered to win an iPad.
In addition to Wiley's booth on the exhibitor floor, on Saturday May 31st BookCon attendees can stop by Wiley's For Dummies specific stand-alone booth #3064 showcasing its various For Dummies products.
Follow @WileyNews for updates from Wiley throughout the show.
###
For media attending BEA, please stop by our booth and a Wiley publicist can discuss Wiley's upcoming Summer and Fall books and share the media catalog. Please contact Melissa Connors (Torra) at mconnors(at)wiley(dot)com or Sadhika Salariya at ssalariya(at)wiley(dot)com to schedule a meeting or if you have any questions.