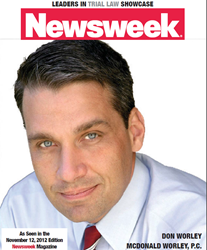 Houston, TX (PRWEB) October 20, 2013
Houston, TX attorneys with McDonaldWorley.com are now offering residents across the opportunity to get their legal questions answered, with no obligation, online. For a limited time, people looking to challenge a will can learn their legal options, from one of America's leading attorneys.
Time for an interested party to contest a will is limited, the firm is encouraging people to bring their questions and concerns to the firm as soon as possible to prevent their missing out on the legal window for their being able to take action.
To take advantage of the no cost legal review, people need only visit the following location and submit the details of their case: http://www.mcdonaldworley.com/case-evaluation.php
"Each probate case has its unique details, administration of an estate can be tricky. Wills can be challenged, and you may be missing out on what is rightfully yours," stated Donald S. Worley, attorney, adding, "We can give people answers, and ensure their concerns are not ignored."
The firm handles Texas will contest cases across the state and can help people fight for their rights if they so desire. For cases that qualify the firm offers clients a contingency fee option, where there are no upfront costs to fight for their interests in court.
"If an individual or a loved one has been improperly cut out of a will or deprived of a rightful inheritance, it is vital they share the details of their situation right away. It takes less than 5 minutes to submit questions online, and we may be able to ensure they don't miss out on what is rightfully theirs," added Mr. Worley.
Heirs need not be directly named in a will to qualify for the legal review. To get more information regarding the firms Texas will, trust & estate legal services, visit: http://www.mcdonaldworley.com/texas-wills.html
About McDonaldWorley.com:
If you have been injured, find out how one of the Nation's leading personal injury lawyers can help. Experienced attorneys standing-by to help if ensure regular people get the justice they deserve.
To visit the official website: http://www.mcdonaldworley.com
To take advantage of the free legal review, click here: http://www.mcdonaldworley.com/case-evaluation.php