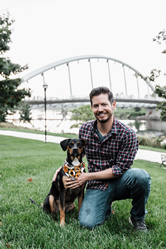 I know many other pet owners are going through the same guessing game I did in trying to improve my pup's health and I am looking forward to bringing Pet Wants to the communities on the western side of Columbus and helping additional families find the best products for their pets. - Will Hammond
COLUMBUS, Ohio (PRWEB) October 29, 2021
When Will Hammond adopted his puppy, Rye, he quickly realized he needed a pet food that could help with Rye's digestive issues. He grew frustrated at not being able to help Rye after trying several premium foods and decided to ask his neighbors what they fed their pets. They all had one answer: Pet Wants. Now Hammond is excited to be opening his own Pet Wants in West Columbus.
"After feeding Rye Pet Wants and seeing how well be responded, I couldn't believe there wasn't a Pet Wants in every community. I know many other pet owners are going through the same guessing game I did in trying to improve my pup's health and I am looking forward to bringing Pet Wants to the communities on the western side of Columbus and helping additional families find the best products for their pets," Hammond said.
Pet Wants' specially-crafted, private-label pet food formulas are made in small batches with fresh, natural ingredients enhanced with vitamins and minerals for a complete and balanced diet in every bowl, all made in the USA. Pet Wants Columbus West has multiple blends of dog and cat food formulas as well as healing salve, calming balm, anti-itch spray, paw wax and more. As a mobile business, Hammond offers free, personal delivery to the downtown core of Columbus, as well as the neighboring communities of Grandview Heights, Upper Arlington, German Village and Franklinton.
"There's a false comfort in thinking that, because you bought the food from a pet store, it's good for your pets, but that's not always true. At Pet Wants, we are here to discuss the ingredients, the science and the philosophy behind each of our products – it's just as much about education as it is about helping people find the right products," Hammond said.
Pet Wants has a money-back guarantee on the freshness and quality of the food, the company only sources the best salmon, chicken, lamb, brown rice and other ingredients available. There's no sugar added, no fillers and no animal by-products and Pet Wants never uses corn, wheat, soy or dyes, which makes the food great for animals with allergies.
Hammond is originally from Dayton, Ohio, and graduated from Ohio University. He began a long career in financial services, starting in Columbus and then relocating to New York City and Los Angeles for years before recently returning to Ohio to be closer to his family. In addition to providing the best products, Hammond is looking forward to helping pet families find products that are convenient and more affordable than other options, like frozen foods, raw foods or home-cooked meals.
"I want the very best for Rye, but I also have a budget. I've tried really expensive pet foods thinking a higher price means higher quality and they didn't make a difference like Pet Wants does. This is the best pet food out there, and I want to bring this to pet owners in the city who care as much about their pets as I do. I'm looking forward to helping pets with convenient, affordable, high-quality products," Hammond said.
To learn more about Pet Wants Columbus West, call 614-302-7885, email WHammond@PetWants.com or visit http://www.PetWants.com/ColumbusWest/.