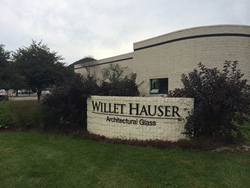 Winona, Minnesota (PRWEB) September 09, 2014
The team of artisans and administrators at Willet Hauser Architectural Glass today announced that they will be bringing together the talents of their design team, administrators, and an historic library into one venue.
"We are always looking for better ways for our teams to both collaborate and inspire each other in the creative process as well as have a better business understanding. Bringing the teams under the same roof with our historic library enables both," said John D. Phillips Jr., Founder and CEO of Associated Crafts.
Willet Hauser Architectural Glass has over a century heritage in the stained-glass industry dating back to the Willet family in the late 19th century.
Willet Art Glass began building their reputation in the design and fabrication of new windows for churches and historic buildings as well as the restoration of those windows. Initially they were concen-trated in the northeast where there was a plethora of historic buildings.
Through the years the company expanded across the United States working on large and small churches and buildings alike. With the merger of Hauser Art Glass in the 1970's the Willet Hauser brand was able to accelerate its expansion and keep its historical roots.
The Willet Hauser Library is unparalleled in its documentation of America's stained glass heritage. It has more than 19,000 renderings of historic stained glass windows documenting the creation process, the artisan's work and metaphor behind each piece. Included among the artifacts are 2,500 rare editions of books and almost 1,000 journals dedicated to stained glass, nearly 1,000 unique colors of glass samples from all over the world, more than 20,000 slides documenting historic stained glass treasures internationally and the latest in craftsmanship through the years. The team at Willet Hauser is currently working on digitizing the library to serve as a digital archive for the world of stained glass.
"Our library displays a thoughtfulness of process from an artistic and historic perspective. We have been encouraged by the willingness of some artists to remain connected to the company by relocating or working with us remotely," says Kathy Jordan, Director of Art Development, "We are really looking forward to having all of our treasures under one roof- our people and their creations."
There are many changes in the making including recruiting top talent, promoting in-house talent and building an apprentice program.
About Willet Hauser Architectural Glass:
Originally founded in 1898 under the name of The Willet Stained Glass and Decorating Co., the nation's leading stained glass window company known today as Willet Hauser Architectural Glass, Inc., continues to design and restore beautiful stained glass window creations. Under the leadership of the Hauser family, the studio grew from a small organization of artists, designers and craftsmen into a premier stained glass architectural windows firm. Combining both timeless traditions and modern techniques to their craft, Willet Hauser's works of art have been commissioned by prominent associations and organizations throughout the United States, including the National Cathedral in Washington, D.C. to the Cathedral of St. Mary of the Assumption in San Francisco and even West Point Military Academy. For more information, please visit http://www.willethauser.com/or call 800-533-3960.