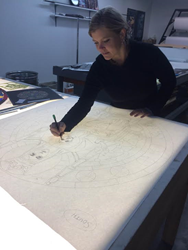 I have one foot firmly planted in the rich past, with the other stepping forward into the future of contemporary innovations
(PRWEB) October 08, 2014
Willet Hauser Architectural Glass, Inc. announced today the recent recruitment of renowned stained glass artist, Melissa Janda. Bringing 20 years of experience in the field of stained glass with her, Janda serves as the Art Department Manager and Senior Glass Painter at the studio's location in Winona, Minnesota. Though Janda is adept at all aspects of stained glass production, her specialization is in glass painting, design and restoration work.
Before entering the world of stained glass, she received her BFA from the Milwaukee Institute of Art and Design where she majored in Drawing with a minor in Illustration. Her professional experience with the craft first began in 1993 when she worked at Conrad Schmitt Studios. Janda then went on to work at Jaeger Studios before leaving to manage her own studio, Melissa Janda Studios in Chicago, Illinois and later Milwaukee, Wisconsin, for ten years while she subcontracted work as a glass painter.
During her time in Chicago she also worked for a handful of studios, including Curran Glass Studio, Regina Art Glass, Glass Art and Decorative Studio, Two Fish Art Glass, and others. In 2008, Janda returned to Conrad Schmitt Studios before relocating to Winona, Minnesota to manage Willet Hauser Architectural Glass' Art Department.
Janda has a deep appreciation for the great traditions of stained glass.
"I have one foot firmly planted in the rich past, with the other stepping forward into the future of contemporary innovations," she said.
In addition to her 20 years of experience, Janda offers Willet Hauser Architectural Glass, Inc. a dedicated spirit to the craft, in which she is constantly striving to learn new techniques through the participation in a multitude of workshops and classes.
A close look at her work process and unique methodology was recently featured in an Artist Profile for WOSU Public Media. The video interview follows Janda's process in creating a commissioned stained glass piece of art and features some of her favorite personal pieces. To view the video, visit: http://video.wosu.org/video/2365288352/ .
About Willet Hauser Architectural Glass:
Originally founded in 1898 under the name of The Willet Stained Glass and Decorating Co., the nation's leading stained glass window company known today as Willet Hauser Architectural Glass, Inc., continues to design and restore beautiful stained glass window creations. Combining both timeless traditions and modern techniques to their craft, Willet Hauser's works of art have been commissioned by prominent associations and organizations throughout the United States, including the National Cathedral in Washington, D.C. to the Cathedral of St. Mary of the Assumption in San Francisco and even West Point Military Academy. For more information, please visit http://www.willethauser.com/or call 800-533-3960.