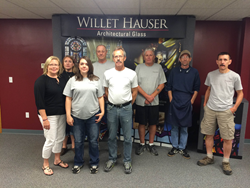 (PRWEB) September 24, 2014
Willet Hauser Architectural Glass announced today a number of promotions and recruitments taking place within the company. The historically renowned stained glass firm, which was acquired earlier this year by the nation's fastest growing stained glass restoration studio, Associated Crafts, announced recently that their team of artisans and their administrative teams are bringing together the talents of their design team, administrators, and an historic library into one venue in Winona, Minnesota. The Studio is excited about the internal changes as they are in conjunction with the new direction of the studio as it merges from two locations to one.
Since the Willet Hauser Studio was acquired by Associated Crafts in January, there have been many exciting changes including recruiting top talent and promoting in-house talent, all in an effort to continue the company's 116-year history of creating many of the United States' most treasured stained glass windows.
Changes began happening this past spring when Mike Liemberger received an in-house promotion to Studio Manager of the Philadelphia, PA location. Liemberger, who has been with the studio since 2006, completed the studio's apprenticeship program before advancing on to Pattern Maker and CAD drafter, a position he held from 2008 - 2014. His dedication to his new role as Studio Manager has been an integral part of the studio transition from Philadelphia to Winona.
Kathy Jordan has been recruited as the Studio's Director of Art Development, a new role the company is very enthusiastic about. Jordan, who has served as owner and president of The Art of Glass, Inc. in Media, PA since 1987, specializes in glass painting with a specialty in historic paint replication and has devoted the past twenty-seven years to the study of vitreous glass and china painting. She is actively involved in the field of stained glass and has received a number of awards, participated in seminars and has been an instructor since 2004.
Also recently recruited was Melissa Janda, a stained glass artist active in Milwaukee, Chicago and Winona. Janda, the studio's senior glass painter, will serve as the Art Department Manager after relocation to Winona.
Lauren Szeber, a recent graduate of the University of Pennsylvania with a Master's degree in Historic Preservation and Conservation Science, joined the team to assist the studio's Digital Archivist and Research Librarian, Amy Di Gregorio, with the digitization of the nearly 19,000 original renderings of historic stained glass windows archived in the Willet Hauser Library in Philadelphia. Since April, Szeber has digitally archived nearly 4,000 designs within the collection.
The Studio is happy to announce that Willet glass painter Hallie Mae Richards-Monroe, whose work recently received a cover feature in Glass Art Magazine, will remain with the team after the relocation as an independently contracted painter.
Once the library has been relocated from Philadelphia to the studio in Winona, Szeber will join the talented group of artisans and administrators there. The Winona team includes (pictured, from right left to right) Pam Hamre, Shan Schammel, Leslie Elliott, Greg Kujak, Jeff Post, Randy Baker, Greg Wignes, Ron Prondzinski, Melissa Janda, Dick Brang (Janda and Brang not pictured) and Garrick Holey (pictured at right with Pam Hamre and Leslie Elliott in second photo). Jordan, Di Gregorio, Leimburger and Richards-Monroe will remain connected to the company after its relocation, working remotely.
About Willet Hauser Architectural Glass:
Originally founded in 1898 under the name of The Willet Stained Glass and Decorating Co., the nation's leading stained glass window company known today as Willet Hauser Architectural Glass, Inc., continues to design and restore beautiful stained glass window creations. Combining both timeless traditions and modern techniques to their craft, Willet Hauser's works of art have been commissioned by prominent associations and organizations throughout the United States, including the National Cathedral in Washington, D.C. to the Cathedral of St. Mary of the Assumption in San Francisco and even West Point Military Academy. For more information, please visit http://www.willethauser.com/or call 800-533-3960.