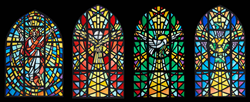 (PRWEB) September 16, 2014
Willet Hauser Architectural Glass artisans are currently in the process of creating a series of faceted glass windows for Tucson, Arizona-based Salpointe Catholic High School.
Representatives from Salpointe Catholic High School originally contacted Willet Hauser, the nation's leading stained glass window company, to design and fabricate a jeweled, mosaic-like aesthetic for the school's chapel. After the initial consultation process, the stained glass committee decided on a series of four faceted windows, rather than the more traditional leaded glass windows.
Faceted glass windows are made from raw, thick, unpainted glass with deep color and shimmering sparkle, as opposed to leaded windows, in which decorative panes of glass are held in place by lead. But like leaded glass windows, the fabrication of faceted glass windows is an involved, multi-step process.
During the fabrication of faceted glass windows, brilliantly colored glass, ranging from one to two inches in thickness, is cut to the desired size according to the window's design. The surface is then chipped or faceted conchoidally to enhance the design, imparting a jewel-like quality. The matrix, composed of epoxy, is then poured around the carefully arranged pieces of glass, holding them in place to form a structural unit of great strength that is also water repellent.
Jeff Post, a long-time Willet Hauser artisan, translated the original designs depicting Salpointe Catholic High School's decided themes of the Resurrected Christ and symbols of Communion and the Holy Spirit into full-scale cartoons. Most of the glass for this project has already been hand-faceted, and the team at Willet Hauser will soon begin pouring the epoxy to complete the windows.
For more information on Willet Hauser Architectural Glass, please visit http://www.willethauser.com or call 800-533-3960.
About Willet Hauser Architectural Glass:
Originally founded in 1898 under the name of The Willet Stained Glass and Decorating Co., the nation's leading stained glass window company known today as Willet Hauser Architectural Glass, Inc., continues to design and restore beautiful stained glass window creations. Under the leadership of the Hauser family, the studio grew from a small organization of artists, designers and craftsmen into a premier stained glass architectural windows firm. Combining both timeless traditions and modern techniques to their craft, Willet Hauser's works of art have been commissioned by prominent associations and organizations throughout the United States, including the National Cathedral in Washington, D.C. to the Cathedral of St. Mary of the Assumption in San Francisco and even West Point Military Academy. For more information, please visit http://www.willethauser.com/.