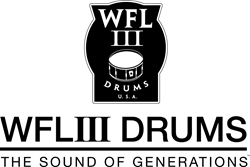 I want WFLIII Drums to be forward thinking and innovative. That's exactly the way my grandfather and dad would want it.
NASHVILLE, Tenn. (PRWEB) November 19, 2019
For three generations, three men with the name William F. Ludwig revolutionized, revitalized and rocked the drumming world. William F. Ludwig III is bringing back the craftsmanship of "America's First Family" of drum building with WFLIII Drums, continuing this legacy as the only living Ludwig in the drum business today.
Founding WFLIII Drums with a similar, uncompromising vision shared by his father and grandfather, Ludwig III ("Bill III") says, "You don't just make drums and percussion tools, you craft them—and make every customer feel special. I want WFLIII Drums to be forward thinking and innovative. That's exactly the way my grandfather and dad would want it."
Taking this perspective and bringing it directly to the customer through today's online tools, Bill III announces today the newly expanded WFLIII Drums website that features a user-friendly, custom ordering platform for drummers to select drums built to their specifications, including materials, size, finish and hardware. The site also highlights physical retailers along with a growing list of drummers endorsing WFLIII Drums. (See recent testimonials from Bobby "T" Torello [Jefferson Starship, Michael Bolton, Johnny Winter] at https://youtu.be/jjdFFJn50iM and Scott Williamson [Blake Shelton, Brooks & Dunn, Michael W. Smith] at https://youtu.be/loRZnEpRf_k.)
As a player, artist relations veteran, drum historian and artisan, Bill III and his company work to produce drums loved around the world by extraordinary musicians and using only the finest materials with peerless craftsmanship. Part of a tradition of drum builders that goes back over 100 years, discriminating drummers are taking notice.
"It's exciting and challenging," he says of making drums again. "I'm thrilled to be back in this business I grew up in and love. My goals from the start were not only to grow a successful business, but to reintroduce drummers to American made, world-class instruments built with traditional techniques and modern efficiencies. To meet those goals, I am constantly listening to customers and finding new and innovative ideas.
"Drummers are a very creative group of people," continues Bill III. "When someone suggests a new shell design, hardware configuration or finish, I naturally want to find a way to produce it and make it available."
For all the latest WFLIII Drums news, go to https://wfliiidrums.com/, Facebook, Instagram and YouTube.