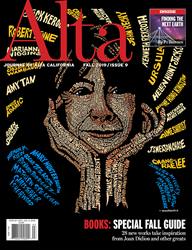 "It's deeply gratifying to produce a high caliber magazine of the West, for the West and by the West, something I've wanted to do for over 20 years." — Will Hearst
SAN FRANCISCO (PRWEB) October 01, 2019
Alta magazine, the vibrant new publication from William R. Hearst III, today announced the hiring of award-winning journalists Mary Melton and David L. Ulin. Melton, a National Magazine Award-winning writer and editor, joins as Editor-at-Large and Ulin, a celebrated Los Angeles author, and former book editor for the Los Angeles Times, joins as Books Editor.
The announcement comes on the heels of the release of Alta's Fall, 2019 issue which features a comprehensive Fall Book Preview highlighting 28 new books devoted to California and the West, and a significant increase in coverage of the Southern California region.
Now in its third year of publishing, Alta is thriving. This latest issue boasts nearly double the number of pages than the inaugural one. With their records of excellence, the addition of Melton and Ulin will further strengthen an editorial team led by Managing Editor Blaise Zerega.
"To put out the best publication possible, you have to hire the best. I count Mary and David, as well as the rest of the Alta team, as the best in the business. There are so many great stories to tell, and I'm very proud of how we tell them," says Hearst. "It's deeply gratifying to produce a high caliber magazine of the West, for the West and by the West, something I've wanted to do for over 20 years. And, to have it expand to double the size in such a short timeframe tells me that we're on the right path."
The Fall, 2019 issue of Alta features the magazine's first standalone section on books and literature spearheaded by Ulin. The 28 books highlighted in the special section address topics ranging from immigration, race, and gender—to skateboards, drugs, and the wonders of nature. Each title is by a Western author, and is reviewed by a Western writer such as, Pam Houston on Terry Tempest WIlliams' Erosion, Alexander Chee on Alex Epsinosa's Cruising, and Emily Rapp Black on Téa Obreht's Inland, to name a few. The section also includes excerpts by Joan Didion and Kimi Eisele.
"Expanding book coverage is a natural move for a publication like Alta, with its emphasis on writing and storytelling," explains Ulin. "Book readers are our core constituency. I am delighted to be part of a publication that recognizes this, and equally delighted to focus on the literature of the West. In the section, we want to showcase the voices that make this region what it is: a cutting-edge landscape for books and culture, where the conversation between writer and reader is diverse and vibrant."
The Alta Fall, 2019 issue also breaks new ground with vigorous, expanded Southern California coverage, including:

The search for inhabitable planets taking place in the Owens Valley, by Po Bronson, a recipient of the American Association of the Advancement of Science Journalism Award.
A profile of professional poker player and Los Angeles resident Maria Ho by Pulitzer-Prize winning journalist Bob Sipchen.
An update on the Academy Museum of Motion Pictures, by Los Angeles Film Critics Association president Claudia Puig.
A look at architect Frank Gehry's ambitious vision for the L.A. River, by noted architecture critic Joseph Giovannini, who coined the term deconstructivism.
A profile on Los Angeles' first world-class dance company, Benjamin Millepied's L.A. Dance Project, by arts and culture correspondent Paul Hodgins.
An appreciation of the late Chicano activist Raul Ruiz, by noted author and professor Mario T. Garcia.
"I'm the fifth generation of my family to call Los Angeles home," says Melton. "I'm always exploring, whether on the road or through my own writing and editing, the city and California, and their place in the larger mythos of the West. Arts and culture, the environment, technology, our shared history—these are all passion topics for me. Will's vision of a publication that seriously considers these subjects fulfills my deepest wish for readers, and one I've pursued my entire career: enlist the region's best writers to tell stories that matter."
In addition, the issue features the best and the brightest writers and stories from all over California and the West, including:
A boots-on-the ground report with those hunting for Forest Fenn's $2 million treasure, by Geoffrey Gray, author of the New York Times bestseller Skyjack: The Hunt for D.B. Cooper.
The battle to save Yosemite's historic rock-climbing camp, by Daniel Duane, author of six books including Lighting Out.
An oral history of San Francisco's famous revue, Beach Blanket Babylon, on the eve of its closure after a 45-year run, by journalist Robert Ito.
Short fiction by Ander Monson, author of eight books and recipient of a Guggenheim Fellowship.
A critical essay on the promise and perils of streaming movies, by film critic David Thomson whose most recent book is Sleeping with Strangers: How the Movies Shaped Desire.
ABOUT ALTA
Based in San Francisco and founded by William R. Hearst III, Journal of Alta California is a quarterly magazine devoted to California and the West. Big trends start in California; Alta identifies them and offers smart, witty, and literary coverage of the people, history, and ideas behind them through its print publication, website, podcasts, newsletters, and event series. Alta treasures great journalism, great storytelling and beautiful images.
For more information, go to altaonline.com.
ABOUT MARY MELTON
Mary Melton is an award-winning writer and editor. Prior to joining Alta as Editor-at-Large, she served as editor-in-chief of Los Angeles. Under her longtime tenure, the magazine was nominated for 12 National Magazine Awards and won three (General Excellence, Feature Writing, and Personal Service—the first wins in the magazine's 50-year history). Her interests include theater (a third-generation graduate of Hollywood High School, she has most recently performed on four tours with Pop-Up Magazine), architecture (she won the PEN Center USA Literary Journalism Award for her profile of photographer Julius Shulman), and the culinary arts (Los Angeles won three James Beard Foundation Awards for its food and wine reporting). She also served as VP/editorial director for the company's publishing group, overseeing Los Angeles and the editorial direction, redesigns, and digital relaunches of Texas Monthly, Atlanta, Cincinnati, Indianapolis, and Orange Coast magazines. Mary currently serves as editorial director at the storytelling firm Godfrey Dadich Partners, where she spearheaded the conceptualization and execution of the redesign of National Geographic, helped companies like Nike, Lyft, and IBM create editorial strategies and tell journalistic stories, and oversaw the launch of Majordomo Media, GDP's partnership with chef David Chang. In 2018, Apple named Majordomo's first production, The Dave Chang Show, one of the top 10 podcasts of the year.
ABOUT DAVID L. ULIN
David L. Ulin serves as Alta's Books Editor. He is the author or editor of ten books, including Sidewalking: Coming to Terms with Los Angeles, shortlisted for the PEN/Diamonstein-Spielvogel Award for the Art of the Essay; The Lost Art of Reading: Books and Resistance in a Troubled Time; and Writing Los Angeles: A Literary Anthology, which won a California Book Award. He is the recipient of a Guggenheim Foundation Fellowship, a Tom and Mary Gallagher Fellowship from Black Mountain Institute at the University of Nevada, Las Vegas, and a Lannan Foundation Residency Fellowship. The former book editor and book critic of the Los Angeles Times, he has written for AGNI, The Atlantic Monthly, Black Clock, Columbia Journalism Review, Harper's, The Nation, The New York Times, The Paris Review, Virginia Quarterly Review, Zyzzyva, and National Public Radio's All Things Considered. He teaches at the University of Southern California, and is currently editing the Library of America's edition of the collected works of Joan Didion, the first volume of which will be published in November 2019.
MEDIA CONTACTS:
Amy Bonetti, 415-407-9008, amy@altaonline.com
Laura B. Cohen, 310-867-3897, lcmediapr@gmail.com