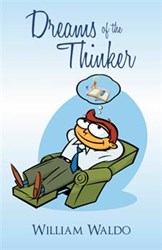 "Those who bother to read the Bible tend to interpret it according to how they feel or what is convenient for the moment."
Palestine, Texas (PRWEB) October 31, 2013
In his new novel, "Dreams of the Thinker" (published by WestBow Press), Christian author William Waldo takes an inspired look at biblical prophecy.
"In all the years I have been a Christian, I have rarely heard a pastor or Bible teacher give any teachings on creation," shares Waldo. "I found it incredible that the first and last books of the Bible are ignored simply because they are considered controversial or people are just plain ignorant of them. It entered into my mind to write a story of creation and biblical prophecy in a fictional setting that might get people interested in these things and learn about them."
"Dreams of the Thinker" is narrated by a college philosophy professor who is converted from atheism to Christianity and subsequently has a series of dreams about the world's creation and its forthcoming demise.
Based on the seven C's of biblical history (Creation, Corruption, Catastrophe, Confusion, Christ, Cross and Consummation), as conceived by Ken Ham, president of the Creation Museum, the book delivers an uncompromised literal interpretation of the Bible.
"Those who bother to read the Bible tend to interpret it according to how they feel or what is convenient for the moment," notes Waldo. "Few understand the Bible is not to be understood by personal interpretation but literally according to the context in which was written. 'Dreams of the Thinker' encourages believers in their walk with God and hopefully stirs up renewed interest in the bible, especially where creation and prophecy are concerned."
"Dreams of the Thinker"
By William Waldo
Hardcover | 5.5 x 8.5 in | 344 pages | ISBN 9781449782948
Softcover | 5.5 x 8.5 in | 344 pages | ISBN 9781449782924
E-Book | 344 pages | ISBN 9781449782931
Available at Amazon and Barnes & Noble
About the Author
William Waldo served over 10 years in the U.S. Navy, became a born-again Christian in 1983 and presently works as a quality control maintenance inspector for a regional airline. He has done extensive self-study on creation science and biblical end-times prophecy. Waldo lives in Texas with his cat, Licorice.