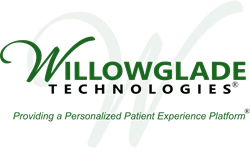 Willowglade Technologies has developed creative and innovative ways to help healthcare organizations serve patients
Orange County, CA (PRWEB) July 15, 2015
Today Willowglade Technologies announced the appointment of Carla Balch as an advisor to the board of directors. In this role Carla will advise and assist on the companies go to market and product strategies.
"Carla comes with a wealth of knowledge about the market we are serving, and a commitment to assist patients that is consistent with our vision" said John Papandrea, CEO and President of Willowglade Technologies. "We are extremely pleased that Carla has agreed to be an advisor to our leadership team as she will provide a new dimension to our thinking and her experience will be invaluable" he said.
"Willowglade's commitment to patients suffering from chronic disease is aligned with my personal desire to assist patients," said Carla Balch. "There are exciting changes happening in healthcare leading to great opportunities to serve patients in new ways, and Willowglade Technologies has developed creative and innovative solutions to achieve this," she said.
As President and CEO of Altos, Carla has been committed to serving cancer patients for many years. Her company built the first web-based oncology technology solution in the marketplace, and was the first CMS certified oncology EMR. Carla led Altos to a very successful exit in May 2014 selling to Google Ventures backed Flatiron Health.
Willowglade Technologies produces the Personalized Patient Experience Platform which empowers patients to manage the clinical, social and emotional aspects of their diagnosis and for healthcare organizations to optimize their patient engagement experience. Much more than a "Patient Engagement Platform", Willowglade Technologies has leveraged the platform to create the "My Breast Cancer Journey" app, which is now available in 45 countries around the world in both Spanish and English.
About Willowglade Technologies Corporation. Willowglade Technologies is a provider of mobile solutions to the chronic condition management and oncology communities, with a focus on enabling patients to better understand their clinical and emotional situation, while enabling a social network with invited friends and family members.
No part of this publication may be reproduced or transmitted in any form or for any purpose without the express permission of Willowglade Technologies Corporation. The information contained herein may be changed without prior notice. Some software products marketed by Willowglade Technologies Corporation may contain software components licensed from other software vendors. Willowglade Technologies and Willowglade Technologies products and services mentioned herein, as well as their respective logos are trademarks or registered trademarks of Willowglade Technologies Corporation. Willowglade Technologies", "Personalized Patient Experience", "Empowering Patient Recovery", the Tree Logo, the CJA logo, "cancerjourneyapps.com" and "because every cancer diagnosis is a journey" are trademarks of Willowglade Technologies Corporation.
Willowglade Technologies Corporation – 29822 Avenida de las Banderas, Suite A, Rancho Santa Margarita, CA, 92688.