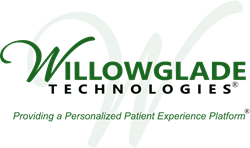 We have been attracted for this revolutionary platform and associated mobile apps since first became aware of it, and we though right away that it was really needed in the European market
Orange County CA and Padova, Italy (PRWEB) June 26, 2015
Today at the DEGRO (The German Society for Radiation Oncology) annual conference in Hamburg Germany, Willowglade Technologies and MD51 announced the signing of a Distribution agreement for the Willowglade Technologies Personalized Patient Experience Platform.
Globally there is a need to improve the way in which hospitals, researchers and other healthcare organizations interact and communicate with their patients" said John Papandrea, CEO and President of Willowglade Technologies. "By providing our platform to healthcare providers, research and pharmaceutical organizations in Europe through MD51 we aim to improve collaboration and communication between patients and those treating them."
"We have been attracted for this revolutionary platform and associated mobile apps since we first became aware of it, and we though right away that it was really needed in the European market. As we started with our market analysis, we found significant interest from major institutions in Germany, Italy and Switzerland, and we have already started some feasibility studies" said Ernesto Lanzotti, CEO of MD51. "We are sure that with this product we will be able to bring added value to the patients of our customers, who will be able to offer a better care, and to the market itself." he said.
The Personalized Patient Experience Platform empowers patients to manage the clinical, social and emotional aspects of their diagnosis and for healthcare organizations to optimize their patient engagement experience. Much more than a "Patient Engagement Platform", Willowglade Technologies has leveraged the platform to create the "My Breast Cancer Journey" app, which is now available in 43 countries around the world in both Spanish and English.
About Willowglade Technologies Corporation. Willowglade Technologies is a provider of mobile solutions to the oncology community, with a focus on enabling patients to better understand their clinical and emotional situation, while enabling a social network with invited friends and family members.
About MD51. MD51 is a very well-known European Company that has been focusing its efforts in the Radiation Oncology market for the last 15 years, and it has been providing solutions that combine both therapy and surgery.
No part of this publication may be reproduced or transmitted in any form or for any purpose without the express permission of Willowglade Technologies Corporation. The information contained herein may be changed without prior notice. Some software products marketed by Willowglade Technologies Corporation may contain software components licensed from other software vendors. Willowglade Technologies and Willowglade Technologies products and services mentioned herein, as well as their respective logos are trademarks or registered trademarks of Willowglade Technologies Corporation. Willowglade Technologies", "Personalized Patient Experience", "Empowering Patient Recovery", the Tree Logo, the CJA logo, "cancerjourneyapps.com" and "because every cancer diagnosis is a journey" are trademarks of Willowglade Technologies Corporation.
Willowglade Technologies Corporation – 29822 Avenida de las Banderas, Suite A, Rancho Santa Margarita, CA, 92688.
MD51 Srl - Via Vigonovese 50/a 35127 Padova (PD) - ITALY