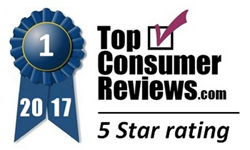 Rocket Lawyer makes it extremely easy to create a Will with an interactive, three-step process.
Overland Park, KS (PRWEB) January 23, 2017
TopConsumerReviews.com recently gave a best-in-class 5 star rating to Rocket Lawyer, a leader among online services for the creation of Wills.
Because many people are uncomfortable discussing death, the critical step of creating a will or trust is often left undone. Having a will allows individuals to not only specify how their property and possessions should be distributed, but can also ease some of the legal complications that arise when a person dies without a will. Fortunately, the process of creating a will has been simplified greatly by online services that can walk clients through each step, typically at a fraction of the cost of having the document drafted by a local attorney.
"Rocket Lawyer makes it extremely easy to create a Will with an interactive, three-step process," according to Brian Dolezal of TopConsumerReviews.com, LLC. "Rather than providing legal kits, books, or downloadable forms, the Rocket Lawyer site helps you draft your Will through interactive, online forms that are all reviewed by lawyers. Each question you answer to create your will is clearly explained, and at any point you can access the Talk to a Lawyer Now feature to get further help. And, if a living trust better meets your needs, Rocket Lawyer offers an online process for that as well. Pricing is very competitive, with monthly packages and no long-term contracts, along with a 1-week free trial. With such comprehensive, easy-to-use options, Rocket Lawyer earns our highest recommendation for people needing to draft a Will in 2017."
To find out more about Rocket Lawyer and other services for creating Wills, including reviews and comparison rankings, please visit the Wills category of TopConsumerReviews.com at http://www.topconsumerreviews.com/wills/.
About Rocket Lawyer
Rocket Lawyer believes that everyone deserves affordable and simple legal services. Since 2008, they've helped millions of families and small businesses take care of their legal matters so they can focus on what really matters. From free legal documents and business incorporation to discounted rates with outstanding lawyers, Rocket Lawyer is there to help every step of the way.
About TopConsumerReviews.com
TopConsumerReviews.com, LLC is a leading provider of independent reviews and rankings of hundreds of consumer products and services. From Wills to Life Insurance and Living Trusts, TopConsumerReviews.com delivers in-depth product evaluations in order to make purchasing decisions easier.