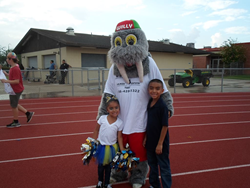 I love to be busy and tell kids about taking care of their teeth
Harlingen, Tx (PRWEB) September 30, 2014
September has been a busy month for Willy the Walrus, the dental education mascot of Harlingen Family Dentistry, and his handler Gail Thomason. They have participated in several events this month including:

Raymondville Ignite Public School Health Fair
an oral health presentation to the Harlingen High School JROTC
Harlingen CISD Health & Wellness Fair
"I love to be busy and tell kids about taking care of their teeth," says Willy. "Gail is always finding places for me to go and it is great when people phone us up and invite us too."
Willy the Walrus is in his 16th year of providing dental education to youth in the Rio Grande Valley and has done literally hundreds of presentations to an estimated 50,000 youth. Willy has a Facebook page and he would love some more likes.
To invite Willy to an event, please call Gail Thomason at Harlingen Family Dentistry at 956-428-5322.