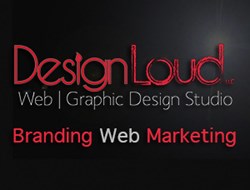 Top Notch. From design to development to building an App for all platforms, these guys can do it all quickly and very reasonably. We have used MANY other developers in the past. None compare to DesignLoud.
Wilmington, North Carolina (PRWEB) November 05, 2013
Based in Wilmington, NC, DesignLoud, Inc. is a responsive web design, graphic design, and Internet marketing agency specializing in WordPress®, mobile apps, logos, branding, Search Engine Optimization (SEO) and Search Engine Marketing (SEM). The company recently became accredited with the Better Business Bureau and incorporated to better serve its diverse, growing clientele.
Operating successfully for over 10 years, DesignLoud Inc. proudly announces its incorporation and expanded portfolio. CEO Derek Schmidt said, "This incorporation represents our long-term commitment to continue producing internationally recognized, award-winning, high-resolution graphics, websites, and mobile apps."
Most businesses realize that a website must not only be functional, attractive, and easy to navigate, but it must also attract visitors and convert them into buyers. This is accomplished through Internet marketing strategies incorporating popular keywords, Search Engine Optimization (SEO) and Search Engine Marketing (SEM). In addition, websites today must be built so customers can easily access them via mobile devices.
"Since mobile apps, SEO and SEM strategies change continually to meet new technologies and algorithms; we must tirelessly research and educate ourselves on the latest changes. Strategies that worked last year are no longer valid. Our work behind the scenes ensures a company gets found when a potential customer is looking for their particular type of service or product," Schmidt explained.
DesignLoud is no stranger to helping businesses acquire more clients. The company recently built search-engine-optimized websites for Hampton Inn and Suites, Blockade Runner, and New Hanover - Pender County Medical Society and many others. Derek Schmidt said, "We are excited to deliver industry-leading services of responsive web design, Internet marketing, SEO and SEM. Our commitment to free, ongoing customer service sets us apart. In fact, most of our new business comes from word-of-mouth advertising from satisfied customers."
DesignLoud Inc. specializes in responsive web design utilizing WordPress®, the leading content management system (CMS) that allows clients to easily manage their website without hefty maintenance costs. DesignLoud provides a full suite of graphic design services, from logos and branding strategies to business cards and brochures. Schmidt said, "Statistics show that people decide within 5 seconds whether or not they are interested in your brand – we help our clients stand out from all the rest."
Mobile-ready web design and mobile apps are cutting-edge services offered by DesignLoud. The creative team develops targeted Internet marketing, SEO and SEM strategies that increase web traffic and conversions, translating into high return on investment (ROI) for clients. Located at 2210 Wrightsville Ave, Suite 1A, Wilmington, NC, DesignLoud Inc. invites you to visit http://www.designloud.com to view its portfolio. Call toll free 855-888-9054 or email contact(at)designloud(dot)com for more information.