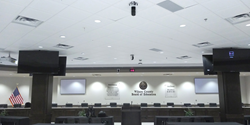 "It has been our intent to ensure that every stakeholder of Wilson County Schools has the ability to stay engaged with the District without having to physically attend Board meetings," said Mickey Hall, Deputy Director of Wilson County Schools. "Swagit's solution proved to be the best in providing t
DALLAS (PRWEB) March 01, 2019
Wilson County Schools is thrilled to announce that the School's Board meetings and work sessions will be streamed live and available post-meeting on their website, starting Monday, March 4 at 6:00 pm.
"It has been our intent to ensure that every stakeholder of Wilson County Schools has the ability to stay engaged with the District without having to physically attend Board meetings," said Mickey Hall, Deputy Director of Wilson County Schools. "Swagit's solution proved to be the best in providing this invaluable service."
In March 2018, Wilson County Schools opened their new Administrative and Training Complex featuring the latest in technological support and capable of seamlessly incorporating upcoming technologies. Swagit's hands-free streaming video® and broadcast solution extends this high-quality environment with the ability to increase Board meeting awareness and participation by those unable to attend a meeting in person.
"Mickey Hall had a vision for the School District, and Swagit's services were the ideal match to help him realize that vision," said Vin Nguyen, Swagit Account Manager. "Starting with an expedited and seamless purchasing process through TIPS, all the way through to the installation and deployment phase, Mickey and his staff were prepared, knowledgeable, and a pleasure to work with."
Wilson County Schools meetings will be streamed live on their website. The meeting videos will be indexed with the agenda and archived for accessible on-demand viewing. Once a meeting is archived, the on-demand feature allows viewers to choose which meeting agenda items or conversations they wish to watch, and then jumps directly to that specific point within the video.
About Swagit Productions, LLC
Swagit Productions, LLC, based in Dallas, TX, provides hands-free video streaming®, broadcast, and captioning solutions to local, state and federal government agencies. Swagit pioneered the Avior™ Pro Broadcast System – a complete package of HD PTZ (Pan, Tilt and Zoom) cameras and professional video-switching equipment that enables any client to fully outsource the production, operation and distribution of multi-camera broadcasts for public meetings. Swagit's progressive online, mobile and social platform solutions include the sole-source EASE™ hands-free webcasting® system for public meeting indexing, plus agenda integration, archiving, on-demand playback, closed captioning and the innovative Sound Search™. Swagit's focus is on emerging technology and relevant avenues of distribution – for example, Swagit's ISD/Community/PEG (Public, Education and Government Access) portal and app featuring social media integration and on-trend resident engagement.