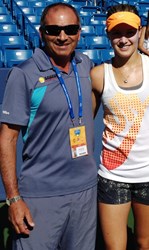 We trust [Nick's] testimonial. If he says a player is the 'real deal', Wilson will send them a package," said Jim Willwerth, Wilson Sporting Goods.
(PRWEB) September 05, 2013
As tennis fans enjoy the year's final major, US Open sponsor, Wilson Tennis, confirmed an extended relationship with Nick Saviano and Saviano High Performance Tennis (SHPT). The combination of Wilson's proven track record as the tool of choice for Grand Slam Champions and Saviano's proven coaching results at the highest level in junior and professional tennis help solidify the tennis manufacturer's place in product and player development.
"The biggest focus is we want to grow the amount of junior players that are using Wilson. And we certainly want to be present at the best academies in the world to attract the best players in the world to benefit from our products," said Jim Willwerth, Wilson Sporting Goods. "We are excited to be the sponsor of the US Open. Having Nick on site to watch his players such as Mallory [Burdette], Sloane [Stephens], Eugenie [Bouchard] and others, the visibility he brings us by wearing our footwear and apparel is great branding for us and is the image we want to create."
The agreement calls for Wilson to be the exclusive brand for Saviano and the SHPT program—everything from apparel and footwear to racquets, balls and accessories. Wilson's desire to grow the relationship from the previous racket-only arrangement to the new head-to-toe deal can be found in Saviano's consistency in producing Junior Wimbledon, US Open, French Open and Italian Open Champions; USTA National Junior Champions; Foreign National Junior Champions; Sunshine Cup, Orange Bowl and Eddie Herr winners; ITF Junior Champions and his ability to transfer those talents to successful college and pro careers.
As an accomplished speaker having lectured globally, Saviano will also serve on Wilson's Speakers Bureau, a group that features 6-10 of the most influential tennis coaches and role players in the business, including Billy Jean King and Cliff Drysdale. "One of the key qualities for Wilson was having Nick Saviano aboard as a public speaker with an indisputable reputation of working with the best players in the world," said Willwerth. "Wilson will have Nick Saviano go to [national USPTA and demonstration] events on behalf of the company."
Saviano further promoted the brand and partnership saying, "Pros can play with any racket they want. When you see the list of players and list of major wins Wilson has been part of, it's a testament to their consistently reliable product development. We're very excited about SHPT's line of Wilson gear."
Wilson will provide Saviano's high performance tennis program with the latest racquets before they hit the market. Not only will Nick and his staff have a chance to hit with the racquets but his students will also test the products themselves, provide feedback and direction and have opportunity to play Wilson products full-time. "We trust [Nick's] testimonial. If he says a player is the 'real deal', Wilson will send them a package," said Willwerth.
Saviano High Performance Tennis is a world-class developmental program in Plantation, Florida for tournament-level players 10 and up. Part-time and Full-time training is available year-round.