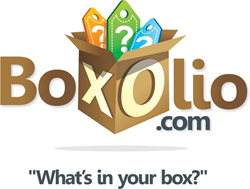 The more people involved, the better the prizes become and the number of winners will also go up
Charlotte, NC (PRWEB) July 18, 2014
Johnny Ninja, a serial entrepreneur and devoted fan of gadgets, has just launched a Kickstarter campaign that he hopes will help raise enough money to fund his clever and unique mobile app idea. Called BoxOlio, the mobile win app will help people to score all sorts of cool stuff, including highly-desirable and expensive items like a laptop or TV that sponsors will give away.
As Johnny explains, he was inspired to create the BoxOlio app and the corresponding Kickstarter campaign because he—like pretty much everyone else on the planet—enjoys getting amazing things for free.
"I want to get cool stuff like expensive electronic devices, and I'm guessing you do too," Johnny said, adding that the new BoxOlio free app that is the focus of the Kickstarter campaign will help people to do just that. As a bonus, there is no catch, memberships or tricks to using the new BoxOlio app—it will just help people to win free stuff like an iPad and other great items.
"You just never know what we will have to give away."
The BoxOlio app will run on both iOS and Android devices to start, and over time more mobile platforms will be added. In addition, the app will feature fun social integration that will allow users to share it with one tap to other people; for example, when they win a TV or laptop, they can easily share the incredible news with their friends and family.
"The more people involved, the better the prizes become and the number of winners will also go up," Johnny said.
About Johnny Ninja:
The history of Johnny Ninja is as much a mystery as the origin of the word BoxOlio. Some say he is more of a machine than man and had his brain wired directly into the internet backbone in the late 1990's. Others claim that they have witnessed his skills in networking, programming, security and marketing wizardry first hand. One thing is certain; Johnny is currently working on developing the BoxOlio app, which will help people to get cool stuff at no cost. For more information, please visit https://www.kickstarter.com/projects/230589426/the-next-big-mobile-app.