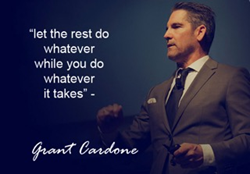 Miami Florida (PRWEB) November 19, 2016
Join Anthony Delmedico and Grant Cardone as they host 2500 Roofing Contractors, General Contractors, and Industry Entrepreneurs at the upcoming Win The Storm 2017 Conference and Tradeshow. For three days participants will experience the best training and vendors ever assembled in the $100 billion+ insurance restoration industry. The conference runs from February 16-18, 2017.
The 2017 Win The Storm Conference & Trade Show Expo has secured more than 20 leading speakers from various industry sectors including commercial sales, federal-government contracting and FEMA, public adjusting, insurance law, sales and marketing, software, technology, construction law, industry reform, insurance law, and even taxes!
Featured speaker Anthony Delmedico (SVG founder and author of the popular book "Win The Game") is presenting on how to exponentially grow your business while helping property owners recover. "I started my first Insurance Restoration Company in the basement of my house with a card table, 6 folding chairs, some sales literature, and 2 sales people." says Delmedico. "Within ten years, we opened up offices in 18 states and hit $173M in sales."
Conference attendees can get the playbook on Delmedico's success and hear from top performers with real industry street credentials sharing industry trade secrets, years of proven systems, and training to take your company to the next level. The best speakers on new industry changes will cover topics including insurance, legal, taxes, technology and how to leverage the changes to your advantage.
The keynote speaker is New York Times best-selling author, #1 sales and social media expert Grant Cardone, CEO of Grant Cardone Sales Training University. Cardone is presenting Sell Or Be Sold: Taking Your Company To The Next Level – 10X Your Sales, 10X Your Business.
This is a serious conference for Entrepreneurs, Owners, and CEOs, as well as Managers and Top Sales Producers, from across the United States looking for real strategies, systems, tools, and the "secret sauce" to increase their sales and scale their companies to the next level. Get in the know on the latest technology, laws, and changes in the Insurance Restoration Industry.
Learn more and register today while early bird pricing is still in effect at http://winthestorm.com/
Storm Ventures Group (SVG) is the worldwide leader in catastrophe management solutions and sales consulting. They help communities of all sizes across the globe quickly rebuild after storms and catastrophic weather events. The SVG team has decades of local and international experience building relationships with insurance companies and successfully navigating the insurance restoration process. More information can be found at http://stormventuresgroup.com
Questions or comments should be directed to:
Storm Ventures Group
Anthony Delmedico
info(at)svgcorp(dot)com
330.57.STORM