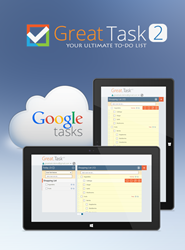 Works great for running a busy urban organic farm. I know what and when each department needs to get done everyday.
New York, NY (PRWEB) December 03, 2013
Great Task is an ultimate to-do list management application for Windows 8. The new launch of version 2 available in Windows Store provides the ability to synchronize with the user's Google tasks. The latest version of Great Task carries full loaded of features help users be more productive on creating and organizing shopping lists, work tasks and study plans etc. Great Task is, in fact, packed with much more key functions than its competitors.
Through a fine-tuned elegant and intuitive interface, Great Task provides a comprehensive solution for all sort of to-do management tasks. Housewives can use recurring tasks to get reminded by the end of each month to pay bills and reload inventories. Businessmen can set up reminders to avoid missing important meetings. Students can breakdown study plan into workable tasks, and keep notes in each individual task or subtask.
Once signed in with a Google account, Great Task is able to synchronize to-do lists with the user's Google tasks smoothly, backup all local editions to the cloud, and, once needed, retrieve them back to any Windows device by signing in the same Google account in Great Task. And what is even better, Great Task supports dual profiles on each device, one is synchronized with Google tasks, the other one is local only profile (by default called the "Local Profile"). By putting task lists and tasks into the local only profile, they stay only on one device, and will not clutter user's well-organized Google tasks account.
Other than full Google tasks support, Great Task also leverage many of the cutting-edge Windows 8 capabilities. Live tile preview of today's tasks, task notifications even when Great Task is closed, convenient snapped view support, sharing task list to other application like Mail or Facebook. With all those deep integrations with the system, Great Task creates the best to-do list management experience for users.
Features:
Powerful to-do management

Multiple lists
Multiple levels of subtasks
Notes
Due date
Reminder
Recurring tasks
Clean, easy-to-use user interface

Click task to show quick operation buttons
Change task level from quick operation buttons easily
Drag and drop to reorder tasks
The entire subtasks tree will be moved together when move the parent task
Smart-Drop feature saves time by automatically determines drop position
Show today's tasks (or all tasks) side-by-side with the task list currently working on
Full synchronization with Google tasks

Backup task lists to Google tasks, and retrieve them back anytime on any device
Preserve all subtask levels perfectly
Automatically merge all editions from any device
Smart resolve any conflicts without any manual interfering
Flexible multiple profiles

One synchronized with user's Google tasks
One stay locally on one device. Avoid cluttering the Google tasks account
Tightly integration with Windows 8 system

Shows today's tasks and counts in start screen live tile
Show notifications for reminders even when Great Task is closed
Enable background notification to get notified even when screen is locked
Fully support snapped view mode
Share to-do list to other application like Mail, Notes or Facebook
System Requirements:
Windows 8, Windows RT or later
Pricing and Availability:
Great Task is available now in the Windows Store for free, full featured only with a few limits. Through an in-app purchasing for only $1.99, power users can upgrade to Pro version, unlock sync frequency, unlimited amount of lists and tasks, and remove ads, enjoy the full power of the Great Task.
Get Great Task for free from Windows Store
About New Magi, the producer of Great Task:
Founded in 2012 by a small global team based in New York and Shanghai. Targeting mobile applications and solutions that help people improve their daily work and enjoy life.
For more information please visit: http://greattask.io
Great Task press kit: http://greattask.io/press.html
YouTube Channel: https://www.youtube.com/user/GreaTask2