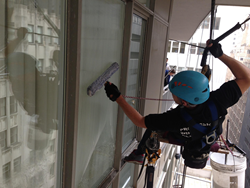 What can be more romantic than hanging on a rope from skyscraper in New York City?
New York, NY (PRWEB) April 08, 2016
2015 Awards and Citations Received
Total Window Service bagged the 2015 Super Service Award from Angie's for providing an outstanding residential window cleaning services. Reviewers on yelp.com had positively rated them with 5 stars. Praises were bestowed by grateful customers and they were described as "thorough, cooperative, quiet, polite, reliable, courteous and excellent in every way". One other thing that is commendable is the way they show transparency on their website. The website is very informative. It provides some FAQ's on how to minimize window cleaning expenses. Now, this is what I call humanity in business.
Window cleaning or window washing is what people resort to when they are not capable of cleaning the windows, such as windows of tall structures, on their own. Sometimes, they are too busy to do it like most American household owners. There are many issues associated with the trade. The first one is that it is one of the most hazardous occupations in the world. This job poses several risks including but not limited to slipping on water or soap and falling from heights.
What's funny is that despite being perilous, the National Institute for Occupational Safety and Health (NIOSH) stated that window cleaning did not make it onto the list of the top 100 most dangerous occupations. Moreover, the Occupational Safety and Health Administration or OSHA made a report compilation, which lists 88 window cleaning accidents over a 15-year period, 62 of which resulted in fatalities. (http://www.healthday.com)
We all know that it is not feasible anymore but you know what, New Yorkers are in for a treat. There exists a window cleaning service company, which takes pride not only of its health and safety precautions, but also on being environmentally conscious and responsible in its cleaning methods. Behold the Total Window Service.
Total Window Service: The Total Solution
Total Window Service has been servicing New York for over a decade. This prestigious company provides residential and commercial window cleaning, glass restoration and window tinting. In terms of safety, their window cleaners for commercial buildings are experts in doing rope access techniques, aerial lifts, suspended scaffolds, etc. You don't have to worry about your window cleaner falling down a high rise building below while he does his job.
In addition, their residential window cleaning service is an epitome of professionalism, neatness, punctuality and good etiquette. They are patient and meticulous enough to ensure your window is spotless that you will feel like you are looking into a mirror.
Total Window Service's company mission is to create the perfect service, which can help their customers improve comfort and safety while minimizing energy expenses. In this regard, they are proud to be a certified Solar Gard Window Film dealer. Solar Gard Window Film is beneficial to both residential and commercial areas because of the following reasons:
1. Lower heating and cooling costs, resulting to a lower electricity bill
2. Lesser energy consumption
3. Higher comfort level because you will be protected from solar heat and glare
4. Shards of broken glass are held together.
5. Gives people and properties enough protection from UV rays.
6. Enhances the curb appeal and privacy of your residence or office
7. Offers peace of mind since the film acts as defense against intruders.
You can get a high quality film, which is covered with a limited lifetime warranty. In this era where environmental problems are a global phenomenon, Total Window Service extends its efforts in providing a greener and less polluted environment for New York by providing green cleaning services.
Corporate Social Responsibility
One salient feature of their window film is the ability to reduce the risk of skin cancer because it blocks 99% of harmful UV rays. Skin cancer is often disregarded as a minor thing. According to the Skin Cancer Foundation, more people have been diagnosed with skin cancer over the past thirty years. About 90 percent of non-melanoma skin cancers are caused by being exposed to damaging ultraviolet rays from the sun.
The organization also stated that in the United States, Americans spend an estimated $8.1 billion to treat skin cancer. These statistics are a manifestation that we should not be indifferent towards skin cancer; hence, it is a good idea that Total Window Service wants to increase skin cancer awareness.
Part of the company's Corporate Social Responsibility is to donate 1% from every window film project cost to The Skin Cancer Foundation. As a customer, aren't you glad that your patronage will also benefit a worthwhile cause?
Areas Served
Total Window Service caters to all five boroughs of New York City namely Manhattan, Staten Island, Bronx, Brooklyn and Queens. It also provides service in Long Island and if there are larger projects requested by their clients, the company's workers can travel up to 2 hours.
Nobody wants to have a horrible sight of dirty windows. Numerous window cleaning services are available, but if you want to get the most out of your money, then I strongly recommend that you contact Total Window Service immediately to book an appointment or simply get a quote. I know definitely that you will never regret getting their window cleaning services.