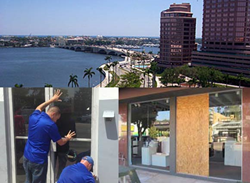 We are already well known as one of the best window repair companies in West Palm Beach
West Palm Beach, FL (PRWEB) October 17, 2014
Express Glass Repair and Board Up Services (http://www.expressglassfl.com/), a top West Palm Beach window repair service for businesses as well as homes, is proud to announce a new blog series on commercial window repair issues.
"We are already well known as one of the best window repair companies in West Palm Beach," commented Yani Santos, general manager of Express Glass. "But we want to remind the customer that we service businesses and commercial establishments in West Palm Beach and elsewhere in Palm Beach County."
For more information on West Palm Beach commercial window repair services please visit http://www.expressglassfl.com/west-palm-beach-glass-window-repair/. There the interested user can find information on the company, including a link to the blog. The blog posts are scheduled to roll out in late October and November, explaining services offered.
Summary of Services Offered to West Palm Beach Businesses
Commercial windows repair is a related, yet different business, to residential window repair. But with trucks cruising West Palm Beach 24/7, Express Glass & Board Up is available to offer incredible services to area businesses. Common businesses needing window repair are restaurants and others with retail exposure, as well as apartment complexes and condominium associations. Any business that has a glass window is exposed to vandalism, accidents, and other incidents that can break their windows. One service offered is called 'Board Up,' which means that if a business has a broken window and Express Glass cannot fix it on the spot, the company can 'board up' the window until a replacement can be ordered. Another service offered (and to be explained in the blog series) is the idea of emergency 24/7 service. Express Glass is known as the company that 'never sleeps,' and it is important for area businesses to realize that their windows can be replaced or repaired on an emergency basis.
About Express Glass Repair and Board Up Services
Express Glass and Board Up Service Inc. is a family owned and operated glass repair business with more than 20 years of experience. Their professional technicians and the large variety of inventory make Express Glass the top glass repair service. If customers are looking for Miami glass repair or West Palm Beach glass repair as well as glass repair in Delray Beach or West Palm Beach glass repair, please reach out to the company for a free estimate. If customers need a 24/7 Sliding Glass Door repair service in West Palm Beach or Boca Raton or Miramar, technicians are standing by. The company specializes in sliding glass door repair and window glass repair; technicians will handle any glass replacement situation efficiently. Home or business glass repair is the company's main priority.
Express Glass Repair and Board up Services
http://www.expressglassfl.com/