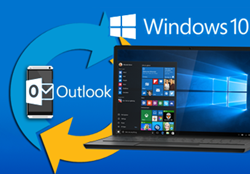 Keep calendar, contacts, notes, and tasks continuously updated using AkrutoSync
Newton, Mass. (PRWEB) September 29, 2015
Akruto, Inc., developers of AkrutoSync™ the only cloudless, seamless, automatic way to sync Outlook Calendars, Contacts, Tasks, and Notes across compatible devices, today announces support for Windows 10 and Windows 10 Mobile for computers, smartphones, and tablets running the new operating system.
AkrutoSync is Windows® software that provides two-way sync of Outlook data between a Windows computer and unlimited compatible devices. Unlike competing products, Akruto stores the data on users' own devices. No data ever passes through any cloud-based or vendor servers.
The software continues to work for as long as the user syncs with compatible devices. The same can't be said for cloud-based services, which could stop operating at any time like Google Calendar Sync did. Any current AkrutoSync customer who upgrades to a Windows 10 Mobile device can download the latest version at no extra cost to them. Customers upgrading to a Windows 10 PC do not need to download an update.
"With support for Windows 10, Outlook power users can rest easy knowing their data is safe, secure, and readily accessible on their PC and connected devices," said George Tatar, CEO of Akruto. "Professionals, consultants, freelancers, and individuals who depend on their devices can keep their calendar, contacts, notes, and tasks continuously updated using AkrutoSync."
Devices directly connect to the user's computer using Wi-Fi or the Internet. The software transmits encrypted data over the network. This ensures a device's contacts, calendar, notes, and task applications stay updated while providing privacy.
"Users won't have the stress of worrying about privacy since their data moves between computer and devices without touching the cloud," said Tatar. "Furthermore, no data will ever be lost even when accidentally deleted because of the Sync History feature that remembers all changes, deletions, and additions. Users can review and restore entries anytime."
AkrutoSync has no upper limit on the number of synchronized entries. Users with massive amounts of entries in Outlook will be able to sync everything including all past and future appointments. The only limitation is the amount of storage on the user's device.
A one-time fee of $34.95 or a subscription of $2.99 per month covers one PC and unlimited use with iPhone, iPad, iPod Touch, Windows Phone, Windows Surface, and Android devices and tablets. Get Akruto at http://www.akruto.com/get-akruto-sync/.
About Akruto, Inc.
Akruto develops software for individuals and small businesses that want to synchronize Microsoft Outlook with smartphones and other mobile devices. Its engineers have extensive experience in data management and share a strong commitment to protecting data privacy. The company's solutions offer a reliable way to sync smartphones with Outlook contacts, calendar, notes and tasks without using the cloud, delivering a higher level of privacy. The company's flagship product, AkrutoSync, includes support for Android, iOS and Windows phone platforms. Founded in 2010 and headquartered in Newton, Mass., the company maintains a website at http://www.akruto.com. Media inquiries should be directed to media(at)akruto(dot)com.
Contacts
George Tatar, 617-299-0094
george.tatar(at)akruto(dot)com
Meryl K. Evans
meryl(at)akruto(dot)com
###