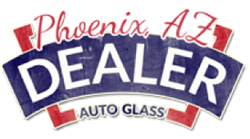 Our knowledgeable technicians have the ability to replace or repair your windshield to the highest of safety ratings - guaranteed
Phoenix, AZ (PRWEB) November 08, 2014
Dealer Auto Glass of Phoenix, the number one windshield replacement and repair company in the Valley of the Sun, is pleased to announce that they have just launched a generous new program with their clients' pocketbooks and wallets in mind.
With each windshield replacement, Dealer Auto Glass of Phoenix is offering up to $150 back in cash or gifts, along with free chip repairs for life.
As The Dealer Team understands, driving a car in the Phoenix area can be extremely hard on the windshield. Road work and construction debris can frequently crack and damage windshields. As part of their commitment to outstanding customer service, the auto glass replacement company was happy to create an offer that rewards customers for their business, as well as continues to take care of them once the new windshield has been installed.
"The quality of your replacement or repair is extremely important for our customer's safety, which makes it extremely important to us," said a company spokesperson for the windshield repair company, adding that windshields are one of the most important structural components of vehicles.
"In addition to only using OEM or OEM equivalent auto glass, which is the best in the industry, we also use the most advanced primer and adhesives available. Our knowledgeable technicians have the ability to replace or repair your windshield to the highest of safety ratings - guaranteed."
As a bonus, Dealer Auto Glass of Phoenix is happy to help people who have traveled outside of the immediate area. For example, there are branches located in both the east valley in Mesa as down south in Tucson. For people who get a cracked windshield while enjoying a fun weekend in Las Vegas, the friendly staff at the local Dealer Auto Glass is more than willing to help.
Anybody who would like to learn more about Dealer Auto Glass of Phoenix may visit the company's easy-to-navigate website; there, they can read about the top-quality windshield replacement and repair services that they offer.
About Dealer Auto Glass of Phoenix:
Dealer Auto Glass of Phoenix is Arizona's number one windshield replacement and repair company. The company's premier mobile service allows them to perform the replacement or repair at a location convenient for their clients, and on any day of the week. They serve all of Arizona and take great pride in their relationships with all the outstanding residents of Arizona that they have developed. For more information, please visit http://www.dealerautoglassphoenix.com/