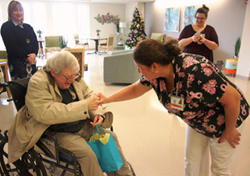 "We built the Venetian as a series of 'neighborhoods' with lovely bedrooms featuring big picture windows flooding the rooms with light because we want residents to feel at home," said VP Michael Jacobs.
South Amboy, NJ (PRWEB) December 19, 2014
Today the first residents are moving into the new Venetian Care & Rehabilitation Center, a cutting edge rehabilitation and long term care center that embraces person-directed care, modern design and technology near the South Amboy waterfront. Venetian Care & Rehabilitation Center replaces the 1960s-era Briarwood Care & Rehabilitation Center in Sayreville and one of 10 Windsor Healthcare Communities located throughout New Jersey. Briarwood management and residents and indeed everyone who is part of the family-owned Windsor Healthcare Communities have been looking forward to the three-mile move to the Venetian.
"We're delighted to welcome the first residents to our newest community, which offers them a true home designed to provide person-directed care surrounded by the thriving South Amboy downtown and waterfront," said Hyman Jacobs, founder and CEO of Windsor Healthcare.
Venetian, located in the Southern Redevelopment Plan of South Amboy, is within walking distance of downtown South Amboy, the train station and two parks on the waterfront promenade, which offers scenic views and lots of entertainment. Venetian's immediate neighbors are the South Amboy YMCA, Frog Hollow Swim and Tennis Club, and new townhomes to be built by Woodmont Properties.
Windsor Healthcare Vice President Michael Jacobs describes the Venetian as a model for the future of transitional and rehabilitative care, is well as long-term care, with floor plans and lifestyles that allow residents more choice and flexibility throughout the day, creating an environment that does not feel institutional.
"You won't see endless hallways with disconnected spaces here," said Michael Jacobs. "We built the Venetian as a series of 'neighborhoods' with lovely bedrooms featuring big picture windows flooding the rooms with light because we want residents to feel at home."
Residents of each neighborhood have their own team of dedicated care partners trained to tailor daily life and activities to individual preferences.
Vice President Batsheva Katz noted that food choices and access to food are important to quality of life for nursing home residents, so in addition to community dining rooms, each neighborhood in the Venetian has a full kitchen with an oven, stove, microwave and refrigerator. Residents will be able to help themselves to a snack in between meals and help cook a meal on occasion.
Kessler Rehabilitation is providing rehabilitation therapy services for both long- and short-term residents at the Venetian. A large state-of-the-art rehabilitation gym, an outdoor RehabPark, and a full-service kitchen will enable rehab residents recovering from an illness or surgery to undergo clinician-prescribed physical, occupational and speech therapy in preparation for returning home.
Kessler Regional Vice President Remko van der Voordt, PT, noted that all short and long term care residents have access to top-of-the-line rehab equipment and receive high intensity therapy at Venetian Care & Rehabilitation Center. The long-term care section of the rehab gym serves the specific needs of long-term residents, such as fall prevention, balance or wheelchair mobility training. In the occupational therapy section of the gym, residents focus on activities of daily living, regaining the necessary skills to prepare foods in the kitchen and operate a washer/dryer. They also receive training in cognitive functioning. In the RehabPark, residents will work on improving movement, balance, walking and even transferring in and out of a car.
Residents transferring from the Briarwood will be moving into Venetian in phases over the near term. Venetian is also accepting applications for new residents. Gina Kirchoff is the administrator for Venetian, and will be transferring from Briarwood, where she has also served as administrator.
About Windsor Healthcare:
A family-owned company, Windsor Healthcare Communities provides clinically sophisticated sub-acute care, as well as comprehensive nursing care, in ten homes located throughout New Jersey. The company leads the state in our adoption of a more enlightened philosophy of "life after adulthood." Windsor Healthcare Communities honor people first, value relationships, and treat Elders and employee care partners like family. This family commitment is Windsor Healthcare's measure for outstanding, quality care. Windsor Healthcare Communities strive to do things as residents would do them at home.
Windsor Healthcare Communities include Abingdon Care & Rehabilitation Center in Green Brook, Ashbrook in Scotch Plains, Briarwood in South Amboy, Buckingham at Norwood, Canterbury in Cedar Grove, Cornell Hall in Union, Llanfair House in Wayne, Windsor Gardens in East Orange, Merwick in Plainsboro and the Venetian in South Amboy.
Please visit http://www.windsorhealthcare.org for more information.
####
Media queries please contact:
Becky Taylor, Windsor Healthcare, (609) 240-6886 or becky(at)btaylorpa(dot)com