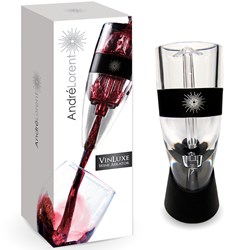 The VinLuxe Wine Aerator is 300% faster than a decanter and pours the perfect glass of wine in seconds.
Victor, NY (PRWEB) January 07, 2014
New York company André Lorent has always prided itself on designing accessories that make the luxury lifestyle accessible to anyone. Co-founder Ben Cummings feels that the company's new VinLuxe Wine Aerator epitomizes that purpose.
"There's been a huge increase in people interested in enjoying and learning about wines," he says, "partly due to the popularity of cooking channels and TV shows geared toward the home gourmet. People are really enjoying learning about gourmet dining at home, and pairing great wines with great food is a huge part of that experience."
Cummings feels that the VinLuxe wine aerator takes one concern out of the equation so that wine lovers can spend more time enjoying their wines and less time decanting them.
"Decanting a wine isn't very convenient for social situations like a party or dinner," Cummings explains. "It usually takes at least fifteen to thirty minutes to properly decant a wine. Our VinLuxe wine aerator is 300% faster than decanting into a glass vessel and the wine goes straight from the bottle, through the VinLuxe and into your glass. No waiting involved."
Cummings explains that wine aerators are becoming very popular these days, as the trend is that more American's are drinking wine than ever before.
There are a few different wine aerators on the market today, and all of them use some method of mixing air into the wine as it's poured. This not only separates the sediment from the wine, but also allows the oxygen to deepen and magnify the more subtle flavors. Without the breathing process, wines can be bitter or lack the subtle notes that wine lovers expect.
The VinLuxe wine aerator distinguishes itself from the other models available because of its globally-patented three-step aeration process.
"The wine goes through three separate aeration filters before it hits the glass," Cummings adds. "First, our Umbrella Aeration System separates and opens up the wine on contact. Then the wine filters through 32 tiny holes to introduce even more oxygen and filter out any sediment. Finally, the wine passes through the aeration tube and into the wine glass."
The VinLuxe wine aerator has a sleek, modern design that makes it very visually appealing and comes with a 100% Lifetime Money Back Guarantee should it become damaged. VinLuxe is the only wine aerator to offer such a guarantee.
"Most importantly, it allows consumers to enjoy a better glass of wine while taking all the guesswork out of decanting. This creates a better wine experience, but it also saves people a great deal of money on wine that's either opened too late to be fully enjoyed with a meal or opened too soon, which can cause the wine to oxidize. It's a great tool for people who are still learning about wine and for more experienced aficionados, who appreciate being able to skip the decanting process and just enjoy their wine and their guests."
The VinLuxe Wine Aerator is being sold exclusively through Amazon and comes with a free travel case, making it especially convenient for vacations, winery tours, picnics and wine tastings.