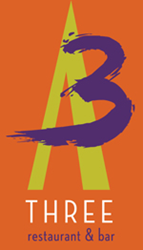 San Mateo, CA (PRWEB) May 07, 2014
THREE Restaurant & Bar is excited to announce that they will soon open for breakfast. Starting June 2, the San Mateo restaurant will begin serving breakfast on weekdays at 7 a.m. The restaurant looks forward to serving the growing business community in downtown San Mateo.
Currently, THREE Restaurant & Bar serves brunch from 9 a.m. to 2 p.m. on Saturdays and Sundays, as well as lunch weekdays and dinner daily. They offer a variety of dishes all made completely from scratch including a house blend grind for their burgers, herbs from the living wall and vegetables from their roof-top garden.
On Mother's Day, Sunday, May 11, THREE Restaurant & Bar will be hosting a buffet brunch. It will take place from 10 a.m. to 2 p.m. and the price for adults is $35. Children ages 10-12 are $20, children ages 6-9 are $15 and kids ages 5 and under are free. The brunch will feature a full breakfast station, seafood station, fried chicken and Belgian waffles, Chilequiles, and a seasonal dessert display. Reservations are recommended, and large parties are welcome. THREE will also be serving Dinner Sunday night.
THREE Restaurant & Bar is located at 50 E 3rd Avenue, San Mateo, CA 94401. For more information about the new breakfast or the Mother's Day brunch, call 650-458-5075 or visit http://www.three-sanmateo.com/.
About the company:
THREE Restaurant & Bar is an established neighborhood restaurant in downtown San Mateo. Recently highlighted in the San Francisco Chronicle, KCBS Foodie Chap Liam Mayclem and a feature in the Best Food for Small Town USA Winner San Mateo, THREE serves regional crafted California fare. At the core of the menu is a broad flavor profile that embraces the ethnic diversity of the Bay Area with the idea that options are what get people excited. The menu is designed to encourage sharing and highlights hand-crafted everything. From their all organic hydroponics garden to the naturally-infused spirits that make up their uniquely-crafted booze menu, THREE embraces the "from scratch" mentality.