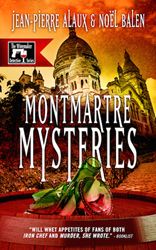 The writing—about France and Paris—is evocative and the descriptions of the wines and food make me thirsty, hungry and jealous!
New York, New York (PRWEB) September 08, 2015
Bloggers are calling this series "an obsession" and reviewers say it is "addictive." The Winemaker Detective series by Jean-Pierre Alaux and Noël Balen has a following of both mystery fans and food and wine lovers, who enjoy the distinctively French flavor, the armchair travel of detailed descriptions of French wine country, and the wine lore found in these novels.
Montmartre Mysteries is the latest mystery in the series, released in September by mystery and thriller publisher Le French Book. It is set in Paris with tales of the French Foreign Legion and lore about winemaking in the City of Light.
Wine expert Benjamin Cooker travels to the French capital, where he is called to help care for some vineyards in Montmartre, a neighborhood full of memories for him. He stops in on an old friend. Arthur Solacroup left the Foreign Legion to open a wine shop good enough to be in the Cooker Guide. But an attempted murder brings the past back into the present. But which past? The winemaker detective and his assistant Virgile want to know more, and their investigation leads them from the sands of Djibouti to the vineyards of Côte du Rhône.
Praise
"Difficult to forget and oddly addictive...deserves a high mark for keeping the answers hidden and the pages turning." —ForeWord Reviews
"You'll travel to France to taste the complex flavors, the unraveling of a mystery, while relishing the French countryside, the gourmet dishes, and the simple pleasurable delight of this rare series." —5-star educator review
"This is a fun and informative take on the cozy crime mystery, French style." —
Eurocrime
"Intrigue and plenty of good eating and drinking." —Booklist
"Clever, enjoyable, nuanced in all the right ways." —MartysReads
"A terrific series." —NYT-bestselling author William Martin
MONTMARTRE MYSTERIES — by Jean-Pierre Alaux and Noël Balen, translated by Sally Pane, published by Le French Book on September 3, 2015 — Trade paperback $12.95; 146 pages ISBN: 978-1-9394-7447-6; e-book: 978-1-9394-7448-3 - hardback: 978-1-9394-7449-0
About Le French Book
Le French Book (http://www.lefrenchbook.com) is a New York-based publisher that brings France's best mysteries and thrillers to new readers across the English-speaking world. Its motto is: "If we love it, we'll translate it."
©2015 Le French Book, Inc. All rights reserved. Information is subject to change without notice.