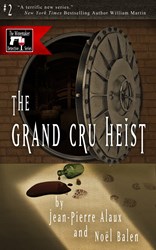 Perfect for people who like a little treachery with their evening glass of Bordeaux, a little history and tradition with their Merlot.
New York, New York (PRWEB) August 29, 2013
Who doesn't start dreaming when they read about the countryside of Médoc covered with a blanket of morning fog? Add some crime, a renowned wine critic and vintner with a handsome sidekick and readers get a whodunit immersed in France and French gourmet attitude.
The Winemaker Detective series by Jean-Pierre Alaux and Noël Balen delves into the underworld of a global luxury industry, where there's money, deceit, death, crime, inheritance, jealousy—all the ingredients needed to distill a fine detective series. It follows master winemaker Benjamin Cooker and his assistant Virgile Lanssien in their adventures solving mysteries in vineyards throughout France and beyond.
The series counts 21 books to date in France, and is a hit television series. Digital-first publisher Le French Book is translating them and bringing them out in English. They just revealed the cover for number two in the series, The Grand Cru Heist.
For the authors, the books "are about the world of wine and winemaking, combining local history, tradition and flavor with sleuthing." They are as much wine novels as they are mysteries, representative of what may just be a new sub-genre.
ForeWord Reviews writes, "Any reader who is a true student of wines or winemaking will thrill at the details…And those who are not may delight in getting a glimpse of some of the day-to-day workings within this very specialized world."
The first in the series, Treachery in Bordeaux, introduces the characters and revolves around a mystery in a prestigious estate in Bordeaux. It is currently available in from all major e-book platforms and for libraries through Overdrive.
The second in the series, Grand Cru Heist, takes readers on another Epicurean journey in France. After an upsetting event in Paris, Benjamin Cooker retreats to the region around Tours to recover. There a flamboyant British dandy, a spectacular blue-eyed blond, a zealous concierge and touchy local police disturb his well-deserved rest. From the Loire Valley to Bordeaux, in between a glass of Vouvray and a bottle of Saint-Émilion, the Winemaker Detective and his assistant Virgile turn PI to solve two murders and very particular heist. Who stole those bottles of grand cru classé?
Grand Cru Heist is scheduled for release in December.
Praise for Treachery in Bordeaux:
—William Martin, New York Times bestselling author of Back Bay and The Lincoln Letter: "I love good mysteries. I love good wine. So imagine my joy at finding a great mystery about wine, and winemaking, and the whole culture of that fascinating world. And then I find it's the first of a series. I can see myself enjoying many a bottle of wine while enjoying the adventures of Benjamin Cooker in this terrific new series."
—Prize-winning, bestselling author Peter May: "Treachery in Bordeaux is a fine vintage forged by the pens of two very different varietals. It is best consumed slightly chilled, and never alone. You will be intrigued by its mystery, and surprised by its finish, and it will stay with you for a very long time."
—ForeWord Reviews Winter Edition: "The journey through its pages is not to be rushed."
Prize-winning author Jean-Pierre Alaux and music-loving writer Noël Balen came up with the idea for the Winemaker Detective series while sharing a meal, with a bottle of Château Gaudou 1996, a red wine from Cahors with smooth tannins and a balanced nose.
About Le French Book
Le French Book (http://www.lefrenchbook.com) is a New York-based digital-first publisher specialized in great reads from France. Founder Anne Trager says, "There is a very vibrant, creative culture in France, and the recent explosion in e-reader ownership provides a perfect medium to introduce readers to some of these fantastic French authors." It launched with top-selling mysteries and thrillers. Their motto is "If we love it, we'll translate it."
©2013 Le French Book, Inc. All rights reserved. Information is subject to change without notice.