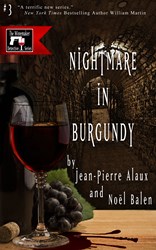 A terrific new series
New York, New York (PRWEB) September 30, 2013
Le French Book, a digital-first publisher of top mysteries and thrillers from France, is busy preparing another translation in the Winemaker Detective series and just revealed the cover for the third book. The 22-book series—a hit in its fourth season on French television—offers an immersion into French gourmet attitude with some sleuthing on the side. The novels are as much wine novels as they are whodunits, and for the authors, each book pays homage to a wine region.
The first in the series, Treachery in Bordeaux, introduces the characters and revolves around a mystery in a prestigious winery. This journey to Bordeaux takes readers behind the scenes of a grand cru wine estate that has fallen victim to either negligence or sabotage. World-renowned winemaker turned gentleman detective Benjamin Cooker sets out to find out what happened and why. Who would want to target this esteemed vintner? It is currently available on all major e-book platforms and for libraries through Overdrive.
The second, Grand Cru Heist (http://www.thewinemakerdetective.com), navigates from the Loire Valley to Bordeaux. In between a glass of Vouvray and a bottle of Saint-Émilion, the Winemaker Detective and his assistant Virgile turn PI to solve two murders and very particular heist. Who stole those bottles of grand cru classé? The ebook will be released before the end of the year.
In the third, Nightmare in Burgundy, the Winemaker Detective leaves his native Bordeaux for a dream wine-tasting trip in Burgundy, France's other key wine region. Between Beaune, Dijon and Nuits-Saint-Georges, his stay turns into a troubling nightmare when he stumbles upon a mystery revolving around messages from another era. What do they mean? What dark secrets from the deep past are haunting the Clos de Vougeot? Does blood need to be shed to sharpen people's memory?
Once again, good food and wine are central to the story, which begins with the Winemaker Detective "savoring a duck pâté accompanied by a Bourgogne Aligoté des Hautes Côtes, perch supreme served with a chilled and fragrant Meursault, and crown loin of veal sprinkled with green peppercorns, along with a 1979 Côte de Beaune Villages." Benjamin Cooker is enjoying a feast put on by a venerable brotherhood that harks back to earlier times, like much of the mystery in this novel, which is rich in local atmosphere and tradition.
According to the publisher, Anne Trager, "We are thrilled to continue this series, which really embodies that French something, a certain refinement and even eccentricity very focused on the finer things in life."
About Le French Book
Le French Book (http://www.lefrenchbook.com) is a New York-based digital-first publisher that brings France's best mysteries, thrillers, novels, short stories, and non-fiction to new readers across the English-speaking world. Its motto is: "If we love it, we'll translate it."
©2013 Le French Book, Inc. All rights reserved. Information is subject to change without notice.