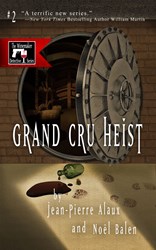 A terrific new series.
New York, New York (PRWEB) January 31, 2014
"I love the wine-plus-crime premise for a whodunit," says Anne Trager, founder of the mystery and thriller publisher Le French Book, "and we are thrilled to continue this series. It's a huge hit on French television."
Grand Cru Heist—the second in the Winemaker Detective mystery series—is a gourmet journey through France. Renowned wine critic Benjamin Cooker's world gets turned upside down one night in Paris. He retreats to the region around Tours to recover. There a flamboyant British dandy, a spectacular blue-eyed blond, a zealous concierge and touchy local police disturb his well-deserved rest. From the Loire Valley to Bordeaux, in between a glass of Vouvray and a bottle of Saint-Émilion, the Winemaker Detective and his assistant Virgile turn PI to solve two murders and very peculiar heist. Who stole those bottles of grand cru classé?
For Jean-Pierre Alaux and Noël Balen, the authors of this long-running made-for-TV mystery series focusing on the world of winemaking and wine tasting, each book is as much a mystery novel as a wine tasting—the discovery of a region, a wine and the people who make it.
"These are cozy mysteries, in the tradition of amateur sleuths, with a distinctly French flavor to them," Trager says.
The Grand Cru Heist ebook is now available for Kindle. The first in the series, Treachery in Bordeaux, is also available as an e-book, and both will be published as print books this summer. Prints books can be preordered now.
The Authors
Jean-Pierre Alaux–a magazine, radio and television journalist and true Epicurean–teamed up with full-time writer and musician Noël Balen to write the Winemaker Detective Series, which now has 22 books. They came up with the idea for this mystery series while sharing a meal and a bottle of Château Gaudou 1996, a red wine from Cahors with smooth tannins and a balanced nose.
Click here to read an excerpt.
Praise for the Winemaker Detective series
"Unusually adept at description, the authors manage to paint everything...The journey through its pages is not to be rushed." —ForeWord Reviews
"A terrific new series." —William Martin, New York Times bestselling author
"A fine vintage forged by the pens of two very different varietals. It is best consumed slightly chilled, and never alone." —Peter May, prize-winning, international bestselling author
"An excellent mystery series in which you eat, drink and discuss wine as much as you do murders." —Bernard Frank, Le Nouvel Observateur
"Perfect for people who might like a little treachery with their evening glass of Bordeaux, a little history and tradition with their Merlot." —AustCrime
"Benjamin Cooker uses his composure, erudition and intuition to solve heady crimes that take place in the exclusive—and realistic—world of grand cru wines." —Jean-Claude Raspiengeas, La Croix
"A series that is both delectable for connoisseurs of wine and an initiation for those not in the know." —Marine de Tilly, Le Figaro
Online media kit: http://www.lefrenchbook.com/press-room/media-kit-winemaker-detective-mystery-series/.
About Le French Book
Le French Book (http://www.lefrenchbook.com) is a New York-based publisher specialized in great reads from France, with a growing catalog of top contemporary mysteries and thrillers with a French touch. An IPS publisher.
©2014 Le French Book, Inc. All rights reserved. Information is subject to change without notice.