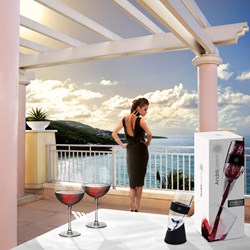 Wine lovers are telling us they're thrilled with the fact that they no longer need to decant their wine.
Victor, NY (PRWEB) January 15, 2014
According to Andre Lorent co-founder Ben Cummings, the majority of wine drinkers historically have trended towards higher income brackets. But Cummings says that is changing.
"The current trends of fine dining at accessible prices and gourmet cooking at home have created a new generation of wine lovers that may not be in the market for a $500 bottle, but they do want a great-tasting, moderately priced wine," says Cummings. It's this new market of wine drinkers that prompted Andre Lorent to offer their new VinLuxe Wine Aerator at a special discount to celebrate the VinLuxe's recent launch on amazon.
"Historically, wine drinkers have been discriminating buyers with a good deal of disposable income," says Cummings. "But good wine has become a much more accessible product in the last several years, especially with all of the small vineyards that have come on the scene in many different regions in the US. The VinLuxe has such a significant impact on the flavor of even moderate wines that we wanted to make sure customers of all budgets and tastes could take advantage of it."
Because of its innovative, three-step aeration system, the VinLuxe Wine Aerator has the distinction of a global patent. The three-step process allows the VinLuxe to produce perfectly aerated wine 300% faster than using a wine decanter.
"There are a few wine aerators on the market," says Cummings. "But we really wanted to release something different with the VinLuxe Wine Aerator." Cummings goes on to explain that the key to the VinLuxe's great results is the fact that the wine's first point of contact is the Umbrella Aeration System, which fully opens the wine instantly before it passes through two more filters and into the wine glass.
"We're really excited about the way people are reacting to the VinLuxe," Cummings adds. "Wine drinkers are telling us that they're enjoying their wine so much more, even with moderately-priced bottles. More experienced wine lovers are telling us they're thrilled with the fact that they no longer need to decant their wine and that they can taste a significant difference in more expensive wines as well."
The VinLuxe was recently released available exclusively through Amazon.com and initial feedback has been outstanding. "We are quite pleased that the amazon community has rated us with five-star ratings and reviews since our release, which makes all our hard work gratifying," says Cummings. "That the VinLuxe produces a markedly superior glass of wine in just seconds and the customers are telling us that this is a product they've been hoping to find for some time. We're thrilled. Our customers have been so supportive and we're really excited to bring them such a great product."
Andre Lorent recently announced that that to celebrate the recent launch of the VinLuxe Wine Aerator, that from January 14-17th, customers can receive a full 33% off by using the coupon code "8E6259BL" on amazon.com.