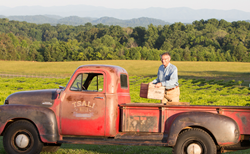 ...no single wine has ever been given the recognition received by Tsali Notch Vineyard's Hiwassee. - Mark Morgan, director of Wines of the South Regional Wine Competition
Madisonville, Tennessee (PRWEB) February 24, 2017
With its distinctively earthy flavor found in no other fruit, the native Muscadine has been called "America's Grape." An East Tennessee vineyard specializing in growing Muscadines has now made Tennessee wine history, producing the most decorated wine of any kind made in Tennessee.
"Hiwassee," a dry white wine produced from Muscadines grown by Tsali Notch Vineyard near Madisonville, has won five wine medals this season, more than any other vintage in Tennessee wine history. Hiwassee won a Concordance Gold Medal at the 2016 Wines of the South Regional Wine Competition in Knoxville, Tennessee, as well as Best of White, Best Muscadine, and Best of Tennessee Fruit. Hiwassee also received a Silver Medal in 2016 and a Gold Medal in 2015 at the San Francisco Chronicle Wine Competition, the largest wine competition in the United States.
"In 15 years of Wines of the South Regional Wine Competition history, no single wine has ever been given the recognition received by Tsali Notch Vineyard's Hiwassee," said Mark Morgan, director of the competition.
Cary L. Cox, owner of Tsali Notch, said his focus has always been on growing quality fruit, since purchasing the vineyard in 2009.
"You can make good wine from good fruit, but it takes a great fruit to make a great wine," said Cox. "That's what we strive to do at the vineyard. We try to produce the best fruit we possibly can. This dry white wine, Hiwassee, belies the notion that all good dry whites come from that valley in California."
Under Tennessee's farm winery rules, Tsali Notch sends its fruit out to other state wineries to be made into wines under its label. Hiwassee was crafted by Brian Hamm of Keg Springs Winery in Hampton, Tennessee.
"This is not the first award-winning wine from Tsali Notch Vineyard," said Hamm. "Multiple other Best Of Show, Best of Tennessee and Concordance Gold Medal wines have been produced from grapes grown at Tsali Notch." In fact, three out of the last four Best of Tennessee fruit awards at Wines of the South have come from grapes grown at Tsali Notch.
Tsali Notch used to be the site of a dairy farm. The first Muscadine vines were planted in 2003, and Cox and other investors purchased it at auction in 2009. Now the sole owner, Cox began sending the Muscadines out to make wine 2012. The vineyard also has jams, jellies, and a variety of other Muscadine products for sale in its historic log cabin tasting room. A post-Civil War two-room farmhouse offers a spot for events as well.
"The vineyard is home to the National Muscadine Festival and the Muscadine Balloon Fiesta, both in September, celebrating the fruit we grow so well here in Monroe County," said J.D. Dalton, Tsali Notch Vineyard manager.
Tsali Notch Vineyard gets its unusual name from the martyred Cherokee Chief, Tsali.
"And 'notch' is a reference to geography," said Cox. "The farm is notched into the hillside. For me, this has been so rewarding, to see the land support itself, to grow the fruit, to make it into wine, and to host successful events here in the vineyard."
The gentle rolling hills of East Tennessee are quickly becoming known as a thriving "wine country."
The "Nine Lakes" region of East Tennessee– which encompasses the 16-county region around Knoxville, is named for the nine lakes formed when the Tennessee Valley Authority built a number of dams in the region to provide hydroelectric power in the 1930s and 1940s.
The Nine Lakes Region is home to more vineyards and wineries than any other part of Tennessee, and grapes are the fastest growing segment of agriculture in the state.
"The Nine Lakes Region provides a unique climate, soils, elevation and physical features that impart a special character, or 'terroir,' to the grapes grown here," said James R. Riddle, President of the Appalachian Region Wine Producers Association.
"When combined with the skills of a talented winemaker, this creates a wine unique to East Tennessee. This climate is dominated by the 'rain shadow' effect, offered by the geography of the Cumberland Plateau and the Appalachian Mountain Valley of East Tennessee. When combined with the lake influences, this creates a climate unique to anywhere in the United States."
The wine association has been instrumental in establishing two of the three wine trails in the region, Great Valley Wine Trail and Foothills Wine & Cider Trail.
The wine trails will join together with others at Nine Lakes Wine Festival, May 19-20 on the waterfront in Oak Ridge, Tennessee. Award-winning wines like Hiwassee will be featured at a Winemaker's Dinner May 19, and on May 20, a Grand Tasting will provide the opportunity for the public to try more than 100 Tennessee made wines.
"This is an opportunity for the public to taste award-winning Tennessee wines," said Riddle. "Very often we find that people have never tried a Tennessee wine. When they do, they are often amazed at how that wine compares with the best they've ever had."
Tickets for the Grand Tasting May 20, as well as a Winemakers Dinner May 19, are on sale now at the festival's website, http://www.NineLakesWineFestival.com.