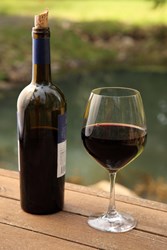 Byron compares this new service with another that offers suggestions in a similar manner: Pandora internet radio.
Washington, Monroe (PRWEB) August 28, 2013
The wine review landscape is changing. Again. Instead of bloggers, can wine4.me really take over as the primary source of wine guidance? Cellar's Wine Club's Byron Young seems to think so. In his latest wine article, he explains how an app like this would work, under the hood, so to speak.
If you'll ask five different wine critics what their favorite wine is you will most likely get 5 different answers. It makes sense, then that some wines are actually quite good, even though a particular wine critic doesn't like them. In order to give the very best wine reviews, one would have to remove this subjectivity. At it's heart, this is what wine4.me aims to do, explains Byron.
According to their website, VineSleuth's app wine4.me 'will help you to find wines you will like, based on your own taste preferences, not those of critics, writers, wine judges or even your friends… just YOU.' Byron compares this new service with another that offers suggestions in a similar manner: Pandora internet radio.
In his article, he also explains how this could be accomplished. Essentially, each wine is tasted and given individual scores for different flavors or characteristics. Each score would be a number, indicating the magnitude of the characteristic. Once all of the characteristics are ranked, the wine would be ready for recommendation.
Using the collected data, he explains, is then accomplished using computer software. In order to supply a wine personalized wine recommendation, the wine4.me app would be given past examples of enjoyed wine. By comparing wine characteristics for matches, the common characteristic between them can be automatically found, and another wine, strong in this characteristic, can be suggested.
This is, of course, not the only way a computer program could make suggestions, but it is a strong one. Even subtle taste harmonies, according to Byron Young, can be discovered through computer software and data supplied by the tasters.
For an in-depth look at some of the challenges and opportunities of VineSleuth's app, check out Byron Young's latest article: http://www.cellarswineclub.com/wine/index.php/how-vinesleuths-wine4me-will-work-probably/
About Byron Young
Byron writes about what he sees in the wine industry on Cellars Wine Club's blog. He hopes to simply comment on and promote the latest topics surrounding the wine trade.