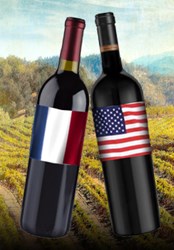 According to the contest rules, these winners will be randomly drawn from the pool of entries.
Monroe, Washington (PRWEB) August 30, 2013
Wine of the month club vendor Cellars Wine Club is giving away three different prizes to lucky contestants who enter between now and contest end. According to the contest rules, these winners will be randomly drawn from the pool of entries.
Cellar's Wine Club's website explains their first prize, the West Coast Wine Club: "Grape quality is like real estate: it is all about location, and the West Coast reigns supreme! Sample wines from world renowned regions of California such as Napa, Sonoma and Monterey. Then head north to Oregon's and Washington's Willamette Valley and Columbia Valley regions. We seek out boutique wineries and limited production wines for our members. This wine club makes the perfect wine gift for any wine lover."
The second prize is called the International Wine Club: "Travel with your taste buds across the globe and try some of the best wines online the rest of the world is offering. From Europe to Australia, from South Africa to South America and all foreign countries in between members will explore a new country's wine every month. Our monthly selections are chosen by our experts and only their favorites are judged acceptable for our members. One month may bring an Italian Sangiovese and New Zealand Sauvignon Blanc to your door, while the next brings an Argentinean Malbec with a Tempranillo from Spain. No Passport or Travel Agent required!"
The third of their givaways is called the Sweet Wine Club, which their website also describes: "As the name implies this club tailors to the sweet wine drinker in your life. But not all sweet wines are the same and this club is designed to showcase those differences. Members may travel to Italy and try a slightly effervescent Moscato d'Asti, to Germany to sample one of their many styles of Rieslings, or stay in America and try a Washington State spicy Gewurztraminer. Many styles and choices will be featured in our newest wine club so hop on board we are going for a sweet ride."
Both the West Coast Wine Club and the International Wine Club include either two (2) different red wines or a red and a white wine. The Sweet Wine Club often features white wines (each one different), but it may also feature a blush or slightly sparkling wine as one of the two (2) included wines. All three wine clubs offer discounts on wine reorders.
Getting into the contest is accomplished by simply entering one's name and email address in at the contest entry page. Winners will be chosen on September 11th and notified by email. See the contest page for the official rules.
About Cellars Wine Club
Cellars Wine Club delivers to wine club members all over the US. They prioritize publishing beneficial information for wine drinkers everywhere. With great service and excellent selection, it is no wonder they are so successful.