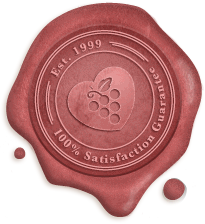 (PRWEB) December 18, 2013
Although not nearly as well known as wine regions in France, Italy, or California, China represents the "underground" of the wine world. Recently, Cellars Wine Club, a nationally acclaimed wine of the month club, concluded their blog series on Chinese wine with an article and infographic. The article focuses in on the best wines China has to offer, which, not surprisingly, remain unfamiliar to much of the wine community. The article, titled, "Beyond the Great Wall: 2 Chinese Wines You Don't Want to Miss" can be read here.
The infographic features two Chinese produced wines: Grace Vineyard's Deep Blue, and Changyu Vineyard's Cabernet Gernischt. The infographic gives the color, grape variety, flavour, alcohol content and a general fact.
Other articles within the series include "Who Is Drinking All of China's Wine?" and "Vines of the Orient: Exploring the History and Future of Chinese Wine." These three article comprise Cellar's series on Chinese wine, showing the ancient origins of Chinese wine and the mysticism surrounding it. They also discuss the Chinese wine industry today, showing how the upcoming generation has driven the industry since the late 1980's.
This latest infographic is just one of the many that Cellars Wine Club has released. Recently, their blog featured an article series on Washington wines that was also concluded with an infographic. These infographics share similar styles, as well, both featuring the top wines of a certain region, visually organized around wine bottles with bold photos to compliment.
About Cellars Wine Club
Based in Washington State, Cellars Wine Club ships wine club deliveries to members all over the US, without added shipping fees. They do not require monthly commitments, allowing those who sign up to switch at any time. Wine club memberships are available from their site in such variety that anyone can find a wine experience that appeals to them and fits their budget.