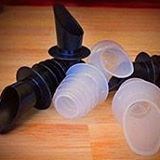 Oxymorwine Announces the Latest Development in Wine Pourers
San Diego, CA (PRWEB) February 07, 2014
Oxymorwine announces it has gone into full production on its Oxymorwine wine pourer. The exciting gadget breaks tradition to meet the needs of fast wine turnover establishments and is a must have accessory for wine lovers. It is an environmentally friendly, cost effective, single-use pourer with unique aeration to enhance the aroma and taste of any wine.
Much of the research was done during the inventor, Ron Richard's, tenure as CEO of SeQual Technologies, a manufacturer of portable oxygen concentrators. Based on his work and research in respiratory therapy, he gained an appreciation for how aerating wine leads to a better expression of the unique aspects in different varietals.
"After quite a bit of experimentation with various approaches to oxygenating wine using a range of designs, I focused on three main areas as I began to construct the Oxymorwine pouring system. The first goal was to make it affordable for mass consumers, second was to make it easy to use, and third was to exhibit comparable results to the competitors on the market selling for $30 - $40 per device," said Ron Richard, Oxymorwine inventor. "By applying the gas law principles of delivering oxygen, the Oxymorwine wine pourer was born."
After more than 12 months of designing prototypes and testing a range of parameters, the Oxymorwine system was launched in 2013. The three major goals were attained and based on consumer feedback and confirmation from a third party testing facility they achieved major improvements in oxygenating wine. The results are available on http://www.oxymorwine.com.
In addition to achieving the goals of low cost, ease of use and improved oxygen content, the pourer has these additional features:
o Non-drip, anti-splash
o Simple push-to-fit pourer
o Maximizes flow and aeration (40% increase in oxygen content measured in parts per million)
o Enhances aroma and flavor
o Recyclable FDA grade polymers
o Available in different colors and options for OEM partners
For more information about Oxymorwine, visit http://www.oxymorwine.com or call 858-735-6433.
About Oxymorwine, Inc.
Many hours of research and development on the core that maximizes wine aeration and minimizes flow impedance, has created a cross-shaped aeration element inside Oxymorwine. It works by utilizing fluid dynamic principles. Air entering the bottle during pour causes rippling or turbulence over the surface of the wine flow that increases aeration or exposure to air and oxygen, whilst an undercurrent flow of wine from the bottle remains mostly uninterrupted by the surface bubbles, improving the speed of pour.