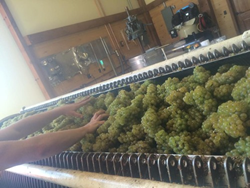 Throughout wine week, participating wineries, liquor stores, and restaurants will offer promotions and discounts of NJ wines at their respective businesses.
Cream Ridge, NJ (PRWEB) September 16, 2015
Almost 2,000 acres of New Jersey farmland is dedicated to grapevine cultivation. The state ranks in the top ten nationwide in wine production. From just a dozen producers 15 years ago, the Garden State now boasts over 50 licensed producers. The growth and progress in volume and quality can be sipped and savored, and certainly calls for a toast!
New Jersey Wine Week, a joint promotional effort between the NJ Department of Agriculture and the Garden State Wine Growers Association aims to raise consumer awareness and appreciation for the local wine industry. New Jersey Wine Week always falls on the last full week of September and the weekend prior, designed to coincide with harvest season. This year, the summer heat and dry spell brought an early beginning to harvest. Early ripening varieties are already being crushed, while classic European varieties like Cabernet Sauvignon and Syrah remain hanging for the next couple weeks.
Wine Week kicks off with a press conference at a New Jersey winery each year. On Friday the 18th, leadership from the Department of Agriculture, Division of Alcoholic Beverage Control, Rutgers, Farm Bureau, NJ Restaurant Association, elected officials, and others will gather at Cedarvale Winery. After welcoming and industry remarks, the special guests will learn how grapes are crushed and fermented once picked from owners Ed & Marsha Gaventa.
Throughout wine week, participating wineries, liquor stores, and restaurants will offer promotions and discounts of NJ wines at their respective businesses. Villa Milagro Vineyards in Milford and Sharrott Winery in Winslow Township will serve dinners in their vineyards. The Iron Room in Atlantic City will hold an NJ wine sampling, paired with hors d'oeuvres and served with history and background on the winery and winemakers who produced the selected wines. Blue Morel Wine Bar in Morristown will pair a New Jersey wine by the glass with artisan cheeses produced by Valley Shepherd Creamery in Long Valley. The Harvest Restaurant Group will feature local wines from Alba Vineyard by the glass at several of their restaurants, including Trap Rock Brewery in Berkely Heights, Roots Steakhouse in Morristown, and Urban Table in Basking Ridge. Passion Vines, a liquor store with locations in Somers Point and Egg Harbor will discount their NJ wine selection throughout Wine Week.
The 9 day event concludes with the Jersey Fresh Wine Festival at the Burlington County Fair Grounds in Columbus. Refreshed as the biggest and only wine-themed farmers' market in NJ, the two day event on the 26th and 27th will feature a dozen local wineries, several Jersey Fresh farmers selling late summer and early fall produce, corn stalks, mums and more. The GSWGA always has artisan food product vendors at their festivals. There will be more than ever at this event, selling nuts, honeys, cheeses, spices…it will be a New Jersey foodie bazaar! Patrons will be encouraged to visit the exhibits from the Department of Agriculture, Farm Bureau, and media sponsor Jerseybites.com. Secretary of Agriculture Doug Fisher will give welcome remarks to kick off the festival on Saturday shortly after the gates open at 11:30.
The full list of Wine Week events statewide can be found at http://www.newjerseywines.com/wine-week. Join the Garden State Wine Growers Association and raise a glass to the incredible NJ wine industry!
The GSWGA is a coalition of nearly 50 wineries and vineyards across New Jersey, dedicated to raising the quality and awareness of the New Jersey wine industry. For more information, please contact Executive Director John Cifelli at 908-866-6529 or John(at)newjerseywines.com.