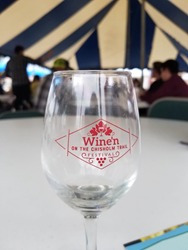 DUNCAN, Okla. (PRWEB) August 23, 2019
Join us for the annual Wine'n on the Chisholm Trail in downtown Duncan, Oklahoma. This wine festival features wineries from across the great state of Oklahoma. Admission is $10 which includes a signature wine glass for tastings. Wineries will sell wine by the glass, bottle, and case.
This two-day event is beginning Friday, September 6th from 5-10 PM. A dinner will be served from 6-9 PM. Tickets for Friday's Italian-style dinner under the Oklahoma stars is encouraged as tickets will sell out. We will offer a gourmet 3-course meal which includes the signature wine glass for unlimited samples from all four Oklahoma wineries while enjoying live musical entertainment.
On Saturday, September 7th from 11 AM- 6 PM, enjoy unlimited samples from all six Oklahoma wineries with the purchase of our signature wine glass for $10. Vendors will be onsite, live demonstrations, and food trucks are available all day. Live performances will be announced. There will be a separate close-by area for those under the age of 21. The event is held at 10th and Main St in downtown Duncan, Oklahoma in the southeast corner of the intersection located under the 'Crapemyrtle Mural'.
If you have any questions you may contact this number 580.252.8696 or send an email to mainstreetduncan(at)sbcglobal(dot)net.
To purchase tickets click the link below
https://www.eventbrite.com/e/winen-on-the-chisholm-trail-festival-tickets-61164184723?aff=efbeventtix&fbclid=IwAR1fHrL8FpXJWQwQT-g5GCVipkfGG-Q6V4ZwRNo6grtXXLAUv5tNzgg6Wto