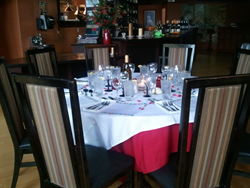 We love to pair our chef's creations with the perfect wine. We think it enhances the entire dining experience.
Dallas, OR (PRWEB) June 13, 2014
Latitude One Restaurant, 904 Main St. in Dallas, OR is partnering with Skylite Cellars from Walla Walla, WA to introduce two new release wines during an impressive five course Winemaker's Dinner which includes four wines and an aperitif on Sunday, June 29. Cost is $68 per person.
"We're very pleased to be able to introduce the 2013 Sierra, which is 50 percent Sauvignon Blanc, 50 per cent Semillion and the 2013 Vognier, a varietal," said Restaurateur Marlene Cox. "We'll have the visiting Washington State winemaker here with us too to provide the back story of these wines."
Latitude One Winemaker's Dinners have become notable events.
"We always have such fun with our Winemaker's Dinners," Cox said. "We love to pair our chef's creations with the perfect wine. We think the perfect paring enhances the entire dining experience."
Wine parings make certain elements, such as texture and flavor; complement one another during the meal.
"At this Winemaker's Dinner, we're also going to feature two of our restaurants' most popular wines, Skylite Cellars Soiree and Cabernet Sauvignon," she added.
Cox explains that people who enjoy fine wine and excellent food often appreciate good music and are delightful conversationalists.
"That's what really makes our Winemaker's Dinners so special," she said. "Our guests tell us the meals are wonderful, the wine perfect and the company better."
Latitude One Presents:
Skylite Cellars Winemaker's Dinner Menu
Aperitif
Sierra, St. Germain, sparkling water served in champagne flutes
over ice with twist of lemon
First Course
Slow cooked, poached halibut on top of northern white beans, sun dried tomatoes, spinach, broth and toasted crostini.
2013 Sierra
(50% Sauvignon Blanc, 50% Semillion)
Second Course
Spring mix salad with local strawberries, chevre and sugared English walnuts,
drizzled with balsamic reduction dressing.
Viognier
Third Course
Freshly made lemon sorbet served in a pecan tulip cup.
Fourth Course
Beef Wellington
Filet with duxelle mushrooms and cherry rosemary demi,
Horseradish mashed potatoes and fresh Oregon asparagus.
(Vegetarian options are available)
2009 Cabernet Sauvignon
Fifth Course
Flaming cherries jubilee over rich chocolate cake
2010 Soiree
(a blend of Malbec, Syrah, Cabernet Sauvignon and Merlot)
Wines
Whites: Sierra (blend), Viognier
Reds: Cabernet Sauvignon
Soiree (blend)
Reservations are required for the Winemaker's Dinner.
Call 503-831-1588 or e-mail Latitudeone(at)hotmail(dot)com for reservations.
Visit http://www.latitudeonedallas.com for more information on Latitude One Restaurant in the Dallas Courthouse Square or to peruse the regular menu.