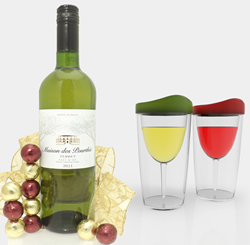 Innovative, Affordable Acrylic Wine Glasses The Perfect Choice for Summertime Picnics, Backyard Barbeques or Any Occasion
St. Petersburg, Florida (PRWEB) September 02, 2014
Finally summer. The perfect time of the year for sipping a good drop of wine while relaxing in the backyard or watching the sun set over the horizon.
But if a fruit fly or other insect have made their way into the wine glass, that perfect moment can be ruined forever.
Because of their chemical components, wines naturally attract fruit flies and other pests indoors and out. Using a traditional wine glass made out of glass, it's easy to have the "quiet time" ruined by an unwanted intruder.
Now there's an innovative new product designed by WINEOVA that keeps the wine fresh and pure indoors or out. Wine glasses with lids feature groundbreaking new technology that combines the insulating benefits of double-walled acrylic material with a form-fitting lid designed to protect the wine from foreign matter.
Acrylic plastic wine glasses are perfect for practically any type of wine, from sparkling champagne to fruity Cabernets or Merlots to cool, soothing Chardonnays or Pinot Grigios.
They are both stylish and functional, and will provide the wine with the protection it needs so it can be enjoyed anywhere and anytime, without worrying about accidentally swallowing a fruit fly or other debris.
Acrylic wine glasses are the perfect accompaniment for an outdoor summer party or backyard barbecue. Plus, they are versatile enough to be thrown into a backpack or knapsack without having to worry about them shattering or chipping.
In addition to this, the hard acrylic material also helps keep the wine at a constant temperature, so white wine will be cool and crisp and reds will maintain room temperature longer to enhance their natural flavors.
Currently they are offered as set of two cups one with green, one with red lid.
The two wine cups with lids are for hand-wash only. With their sleek design, they are stylish enough to be stored with the finest crystal yet strong enough to stand up to the harshest of conditions.
Whether one is looking for the perfect "conversation starter" for the next get-together or a thoughtful, appreciated gift, these affordable wine glasses provide the solution.
For more information on acrylic wine glasses with lids from WINEOVA, visit: Try Wineova or contact them at info(at)wineova.com