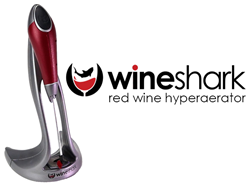 We believe that the WineShark is, quite simply, the most effective aerator ever designed.
Charlotte, NC (PRWEB) October 24, 2013
The WineShark is the first red wine hyperaerator designed to be used in a glass of wine, once it's been poured. Instead of waiting three hours for a red wine to naturally aerate, the WineShark allows users to enjoy their favorite wines in a matter of just six seconds. Today, Taylor Hayden, creator of the WineShark, has launched a crowdfunding campaign on Kickstarter with a funding goal set to $40,000.
When wine is exposed to the air, its flavor profile and aromas open up, making for a better tasting wine. However, most regular wine drinkers choose to skip the three-hour wait, and turn to aerators to expedite the process. And although most aerators on the market aerate wine straight from the bottle, before it has been tasted, wine drinkers don't always know if a bottle of wine needs to be aerated without trying it first. The WineShark solves just that problem.
To make the process of aerating red wine quicker while preserving the wine's flavor, Hayden created the WineShark, which is simple to use; insert the propeller into the glass and "Shark It" for six seconds for a perfectly aerated glass of wine.
"The WineShark incorporates significantly more oxygen in less time than its competitors," notes founder Taylor Hayden. "We believe that the WineShark is, quite simply, the most effective aerator ever designed, and can be used after you've poured your wine if you determine that a bit of aeration is required."
Some of the first Kickstarter backers can get their hands on the WineShark for only $25, which is more than 35% less than the expected retail price. Once that limited reward is sold out, supporters can then get the WineShark for a pledge of just $35. And after the Early Bird rewards have sold out, anyone who would like to support the WineShark will still receive a discount as a thank you for supporting the product in its early stages.
Not only is Hayden offering the WineShark, itself, to supporters, but trips to Sonoma Valley. These rewards range from $3,999 to $6,999 and include private wine tours, exclusive dinners and luxury treatment.
To learn more about the WineShark, and to stay up to date with its crowdfunding campaign, visit http://bit.ly/WineSharkKS, like the WineShark on Facebook and follow them on Twitter @TheWineShark.
About WineShark
The WineShark is a new hyperaerator from creator Taylor Hayden. Simply put, the WineShark is the most effective wine aerator ever designed. Existing aerators can be difficult to use and troublesome to clean. The WineShark is fast, highly effective, simple and fun to use, and easy to clean and store. To learn more, visit http://www.getwineshark.com.