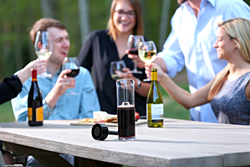 Wine Squirrel is truly unique in its elegance, simplicity and ability to preserve wine for weeks.
Sonoma County, California (PRWEB) April 28, 2016
Wine Squirrel is the only decanter to use a patent-pending sealing mechanism to keep wine robust and flavorful for weeks at a time. With the ability to hold up to one bottle of wine, this decanter makes drinking one glass of wine and hoping it stays fresh for a few days a thing of the past. To finish production, Wine Squirrel has launched a Kickstarter campaign to raise $30,000 in 30 days.
The Wine Squirrel decanter is a simple, elegant device that is solving the common problem wine drinkers face of pouring wine down the drain a few days after opening because of exposure to oxygen. The key to sealing wine without letting any oxygen into the decanter is Wine Squirrel's patent-pending mechanism. This mechanism is easy to use and provides an airtight seal so secure that users can place the decanter horizontal or upside down without causing a mess.
"We have tested Wine Squirrel endlessly with both red and white wine to make sure Wine Squirrel is effective on all fronts," said Maurice Gonsalves, Wine Squirrel CEO. "Wine Squirrel is truly unique in its elegance, simplicity and ability to preserve wine for weeks."
The sealing process is simple and takes less than a minute to complete. First, wine is poured into the crystal decanter. Next, the seal is inserted into the decanter and pushed down until it reaches the level of wine. Finally, the seal is engaged by turning the knob clockwise to create the airtight seal. When it comes time to have another glass, simply turn the knob counterclockwise to remove the seal and pour a glass of wine. The sealing process can be used time and time again without compromising the effectiveness of the seal.
Wine Squirrel is currently available for preorder on Kickstarter starting at $45 for one Wine Squirrel. For more information or to preorder, please visit the Wine Squirrel Kickstarter page at http:///bit.ly/WineSquirrel_KS.
About Wine Squirrel
Wine Squirrel is a product of Forever Products LLC, which is a family company founded by Tony Gonsalves and his brother, Maurice Gonsalves. Tony, a physicist based in Berkeley California, created the Wine Squirrel concept and developed it in conjunction with Clive Solari from the Sydney-based industrial design firm D3 Design. Maurice is an attorney and wine lover who gave up his job a year ago to focus on making Wine Squirrel a reality. For more information on Wine Squirrel, please visit http://www.winesquirreldecanter.com.