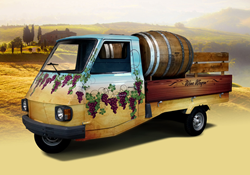 I found this little Italian delivery vehicle, and it was so ugly that it was cute. So... we created the WINE WAGON!
Alsip, Illinois (PRWEB) February 14, 2015
For wine enthusiasts, not much can compete with an evening filled with good food, great wine, and enjoying a few laughs with friends. Chicago area, Midwest Car Exchange may have just added to that list.
"I found this little Italian delivery vehicle, and it was so ugly that it was cute." explained Mark Leszczynski "I just had to buy it, but at the time I wasn't even sure what we would do with it."
Leszczynski has owned and operated Midwest Car Exchange in Alsip since 1991. The company consigns, buys and sells collectible classic cars. With the exception of a small office area, the entire building on Laramie Avenue is dedicated to housing between 50 - 70 (very cool) vehicles at any given time. The makes and models vary from month to month, but the majority of them are classics from the 1950's, 60s & 70s. The business may be headquartered here in Chicago, but the customers come from all over the world.
"This little vehicle is a three-wheeled Piaggio delivery truck." continued Mark "This one was manufactured sometime in the early 70s. It has become quite the attention-getter here in our building."
Mark showed the vehicle to friend and fellow wine and car enthusiast, Jhan Dolphin from J Robert Marketing. Dolphin's Marketing business in Lake County is well known for some of the wild custom vehicle designs they have created for large national events, publicity tours, and elaborate promotions.
"I jokingly suggested to Mark that we build the Wine Wagon." said Dolphin "Next…we were sketching ideas and laughing about how fun it would be to create this attention-getting little party wagon."
Dolphin's team enlisted the help of CPV Paint & Graphics in southern Wisconsin to create the grapevine themed exterior finish. Local furniture designer Frank Kersey was commissioned to use 100 year old repurposed barn wood to construct the rear bottle storage and display areas. He then cut and fabricated full-size oak wine barrels to create functional white wine coolers.
The Wine Wagon turned out great!" continued Mark "There are already restaurants, vineyards, and companies asking to reserve it for upcoming events, so it should have a very busy schedule throughout the year."
The Wine Wagon is available to rent from Midwest Car Exchange for display at trade shows, bridal showers, golf tournaments, restaurant events, grand openings, festivals, and anywhere wine enthusiasts gather for fun. Contact Midwest Car Exchange for additional information on renting the Wine Wagon, or visit: LittleWineWagon.com You can also follow the Wagon on Facebook, at:https://www.facebook.com/littlewinewagon